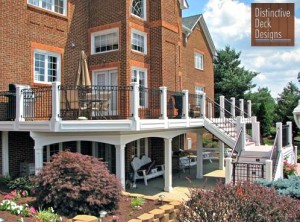 Did you know you might have a gold mine of extra outdoor living space or storage space right in your very own backyard? If you have added a deck to your Northern Virginia home, you may want to look to consider under-deck conversions to maximize the potential of outdoor living space or storage.
As deck builders for Fairfax and other nearby Northern Virginia cities, we would like to show you how to covert these spaces into great patio storage or usable patio space! We understand that when you had your deck installed, working on the underpart was not likely in the budget. However, there are many ways to convert that space now, including:
Waterproofing
The first thing to address is waterproofing. Proper deck contractors will make preparations to prevent water damage to the home. When a deck is built the correct way, it will have a slight grade to force water to run from the base of the home. The slats will also allow water or ice to drain and account for decking materials' natural ability to contract and expand.
Converting the under-deck space means taking waterproofing to a different level by diverting the water away from the space to avoid pooling or even seeping into the home's foundation. Our patio building experts do everything possible to protect your Fairfax home by installing downspouts and gutters to divert the water, as well as debris, away from the underpart of the deck. We will also prepare the area for mold prevention by making sure the area is level and well-ventilated.
Weather Preparation
Because we live in Northern Virginia, summers are wonderful but our winters can bring heavy snow and icy conditions, so we will work to make sure this does not build up against the home or the underpart of the deck to prevent the deck materials and home's exterior from eroding and thus causing a larger more expensive repair.
Under-Deck Options
Converting this space will provide an alternative space to enjoy when sun exposure is right on top of the deck.  You can make a beautiful porch area with extra seating, an outdoor man cave complete with a mini fridge and a detachable summer weatherproofed TV or a reading nook, or use it simply as storage space!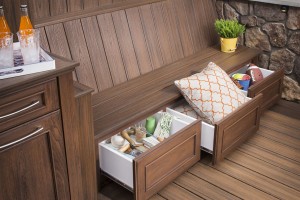 If you want to turn this space into a porch, be sure to consider patio lighting for your Fairfax home. There are many great solar and decorative patio lighting options to consider. You can also use composite materials to create the seating area for a weatherproof solution for year-round protection. Take a look at what TREX did for this porch. They made benches, as well as hidden storage for cushions and other patio materials.
You can also extend this space for use as an outdoor kitchen and dining area. Talk to your deck contractor about what outdoor kitchen elements you desire to make sure the installation is compliant with fire and hazard safety standards.
There are affordable, convenient options available to convert your under-deck space for maximum outdoor living comfort. Schedule an appointment with our patio builders near Fairfax and get a FREE on-site consultation and quote today!
Distinctive Deck Designs is an award winning patio and deck builder for the Fairfax, VA area. We work with homes as far southeast as Woodbridge and as far northwest as Leesburg. Check out the work we have done for your neighbors, and don't forget to request your free quote on outdoor living construction today!