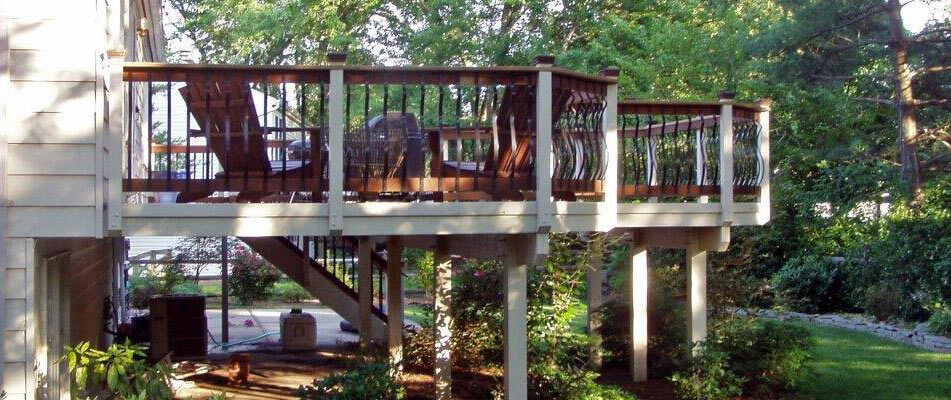 Fairfax Pressure Washing Services for Decks
Our deck pressure washing services will protect your deck and add years to its lifespan.
The importance of routine deck pressure washing cannot be overstated. Your deck represents a great investment on your part, and proper deck cleaning and refinishing at least every other year will protect your investment. Distinctive Deck Designs has established a reputation in Fairfax and Northern Virginia as innovative deck builders, and unlike ordinary general contractors we also offer our services as pressure washing experts to our clients. As professional deck builders and pressure washers, we know how important it is that your deck surface is cleaned properly prior to deck sealing and deck staining. We get the job done using wood cleaners that will not harm your plants or the vegetation around your deck. No matter the size of the job or the degree of difficulty due to build-up of old stain/sealers, our deck pressure washers are up to the task. Stripping or sanding may be required for more difficult jobs, but we've been there before and know how to get the job done right. There is an art to power washing, and it is one we've perfected. Call on our team to make the deck cleaning process a smooth and easy one.
We can pressure wash a number of areas around your home including:
Wood decks and Composite decks
Aluminum, vinyl and painted wood siding
Walkways, patios, driveways, garages
Brick, stone walls and foundations
Pool and patio furniture
Fences
Soffits, columns, porches, framework, rails and trimwork
We offer low and high pressure power washing that promises to remove mold and mildew from the areas mentioned above. We will also hand clean more sensitive areas, and all of our cleaning is done using environmentally safe solutions. Count on Distinctive Deck Designs in Fairfax for all your deck pressure washing needs.
Hiring the professionals at Distinctive Deck Designs can save you a lot of time and, potentially, a lot of heartache. This is one job you want done professionally and correctly prior to deck staining or deck sealing. Making this investment in your deck every other year (or even every year if you prefer) is one that will add years of enjoyment for you by keeping your deck in optimum condition.
Be proactive in keeping your deck in great shape and it will reward you with years and years of great service. Call Distinctive Deck Designs today at 703.263.9634. Our deck pressure washers are eager to help and are always available at your convenience throughout Northern Virginia.
Share On...