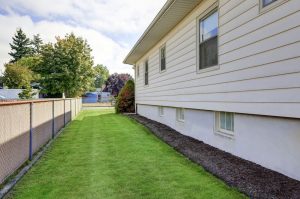 Stop using a lack of space as an excuse for not having a deck or patio built for entertaining purposes. Today, more homes are being built with tiny outdoor spaces, and we have successfully completed deck construction for tiny back and side yards throughout the Fairfax area. Let our deck construction experts show you how we can transform your smaller outdoor spaces.
Tiny Side Yard? Build Upwards
If you feel like your yard lacks depth, but you have a single, two-story or tri-level home, why not build your deck upwards? Creating a multi-level deck has several benefits for your home. The deck adds square footage, which increases your home's total value. If the deck is raised to a certain height, it can create even more outdoor living space with a covered patio, which protects you, your pets and your guests from the elements.
Create Optical Illusions on Your Deck/Patio
Make your smaller outdoor space seem bigger than it is by using lines to show off the length of the yard. This helps make your space feel longer than it really is. Your deck or patio builder may also suggest running lines in a diagonal direction to help make the shorter depth feel wider. Your contractor can help assess which is the best option for you.
Simplify Your Deck/Patio Furniture and Accessories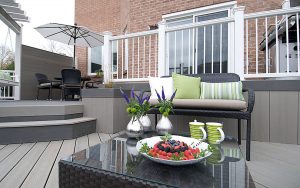 Most patio sets come in multiple sizes. If your favorite set does not, you can also find very similar designs in another brand built for apartment style balconies. Space maximizing tip: Look for folding patio chairs and consider hanging them up outdoors or storing them in a closet. This reduces clutter on your patio when they're not in use.
Your patio or deck builder will also advise you to keep your color palate simple. Too much color, accessories or patterns can make a small space feel even smaller. It's okay to have contrast, but stay away from multi-colored patterns to reduce the noise of the space.
If you have any more questions on how to maximize a small outdoor living space, reach out to our experienced deck builders serving Fairfax, Loudoun and Prince William Counties. We welcome all inquiries. Check out our reviews on Angie's List and Houzz!