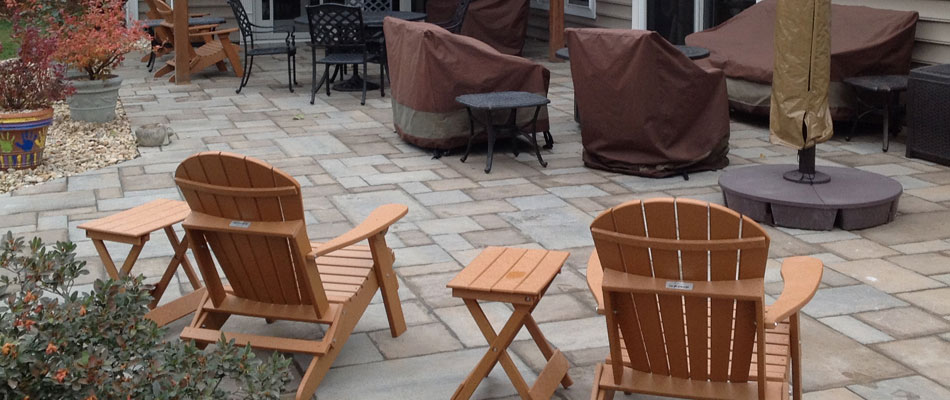 Patio Contractors Serving Northern Virginia
Our Custom Patio Builders Specialize in Paver and Hardscape Design and Installation
Now is a great time to start working on that custom patio project, whether you want to build a patio for entertaining guests in the summer or create a stone walkway to showcase the beauty of your home in Northern Virginia.
Distinctive Deck Designs is your one-stop shop for all your deck and patio construction needs! Our team of builders offers the best patio installation in Northern Virginia, handling every step of the process from design to execution.
Plus, we understand that the little details do make big differences and take the time to ensure each installation is completed to perfection. We make client satisfaction our top priority and won't stop until we have truly captured the vision for your new outdoor space!
Take Your Patio Installation to the Next Level with Distinctive Deck Designs
Trusted by countless Virginia residents, contractor Mark Shriner and his dedicated team of builders design and install patios across Northern Virginia each season. We take pride in installing custom hardscaping elements that truly take outdoor spaces to the next level.
Our team can handle any project you have, from full-size patios to elaborate stone walkways and even custom retaining walls! Distinctive Deck Designs will help you achieve the patio of your dreams that functions the way you need it to and lasts for years to come.
---
Finding the right type of paver to meet your outdoor needs is crucial. Plus, our team of experts know how to answer tough questions like 'How much to install paver patio?' and 'What is the best paving for a patio?'
Our patio contractors choose from patio pavement, Techo Bloc Paving Stones, Pennsylvania Flagstone, and multiple choices in Natural Stone to achieve the look and feel you want. Let us help you navigate the twists and turns and don't worry about questions like 'How much is the cost to install a paver patio?'
Virginia Deck Designs makes sure you're always on budget! Bring your patio to life with pavers or natural stone to fit your lifestyle and budget. Are you interested in learning more about our stone inventory?
For the best patio pavers Virginia has to offer, or to learn more about the specific difference of each material today, contact our team of builders!
---
Highlight gorgeous focal points in your yard or lead friends and family to a custom-made gazebo with a custom walkway from Virginia Deck Designs! Walkways are often the perfect finishing touch to your outdoor space, taking your brand-new patio from beautiful to astonishing.
A walkway from Virginia Deck Designs is the perfect choice for anyone looking for a gorgeous, budget-friendly option to take your outdoor space to the next level. Walkways are also easily personalized to fit your space and your budget!
---
Our retaining walls traditionally hold soil in a sloped area that surrounds your patio. This gives you more freedom with your layout, regardless of the landscape you are working with. It also is the perfect way to create a stunning focal point to complement your surrounding landscape!
Plus, our team of experts will work with the design of your patio to create a retaining wall that pairs well with whichever style you have! You're guaranteed to get a look you'll love
---
We Take Pride in Creating Gorgeous Custom Patios and Stone Walkways in Northern Virginia
Our patio construction contractors only use quality patio pavement and materials from top manufacturers like Techo-Bloc and EP Henry to ensure a long-lasting finish product. We also devote our complete attention to each project we're hired to work on.
When you turn to our team of expert patio builders, you're guaranteed to get an installation completed on time and within budget. Distinctive Deck Designs only takes one job at a time so we can focus on giving our customers great craftsmanship without any problems!
Contact Virginia Deck Designs Today for Your Free Consultation!
For the best patio installation, Northern Virginia has to offer - residents only need to know one name! When it comes to patio pavement, patio design, and construction, choose Distinctive Deck Designs by Mark Shriner. We're proud to be the area's go-to source for unique outdoor features. Let us complete your home by making your outdoor space more livable for your family. Contact Virginia Deck Designs today to arrange your free consultation!
We proudly serve the following Northern Virginia cities:
Share On...