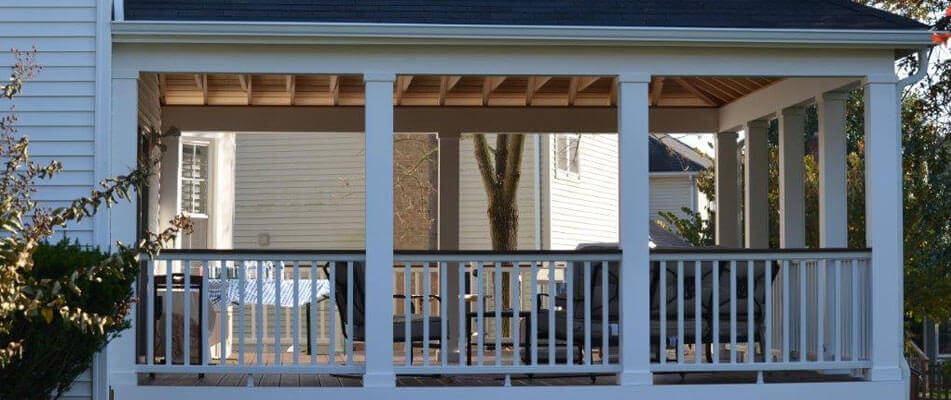 Sunroom Construction in Northern Virginia
Let our experienced and creative team create the sunroom of your dreams
Sunrooms make a beautiful addition to any home, and offer a relaxing place to spend time in solitude or with family and friends. Mark Shriner and the team at Distinctive Deck Designs have created some of the most beautiful sunroom designs in all of Virginia, and would like to do the same for you. We know there are many local general contractors for you to choose from in Fairfax. We are proud to offer our prospective clients landscape design services as well. We look forward to familiarizing you with a previous sunroom installation we have completed to show you the kind of work we can do. We always take the time to listen intently to our customers so that we can gain a true idea of their vision for their future sunroom. We want to provide you with a finished product that exceeds your expectations and upgrades your home in an aesthetically pleasing and functional way. Talk to a landscape designer or contractor at Distinctive Deck Designs about your sunroom design ideas today.
If you have been considering the addition of a sunroom, the company you choose will go a long way in determining your ultimate satisfaction with the end result. Our team consists of Northern Virginia natives who love nothing better than bringing the visions of our friends and neighbors to life!
Our team is led by Virginia native Mark Shriner, who brings over two decades worth of experience as a general contractor to his work with Distinctive Deck Designs
We are a full service design company, and will handle every aspect of your project including HOA approval, permits, choosing materials, design and construction
We will work closely with you on the design of your sunroom installation so that your vision is incorporated at every turn
Free consultations available
The decision to make an addition to your home is a big one, and an exciting one at that. A sunroom is a wonderful addition not only because of what it can do for your Fairfax home aesthetically but also because it is so functional. Done the right way, it promises to be an area of your home you will love spending time in year-round. The team at Distinctive Deck Designs has created countless sunrooms for our fellow Virginians, and would be thrilled to work with you on the creation of yours.
We look forward to speaking with you about the potential addition of a sunroom to your home. You may reach Distinctive Deck Designs by calling 703.263.9634, and may learn more about our company or contact us online at www.virginiadeckdesigns.com.
Share On...