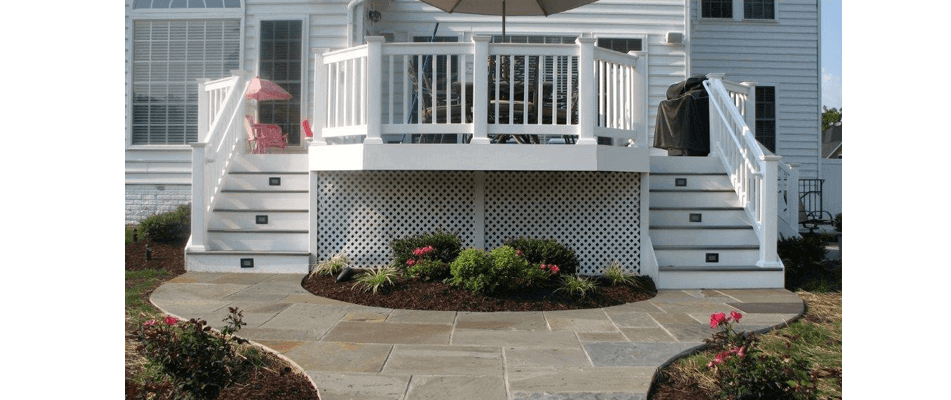 Patio and Walkway Design in Northern Virginia
Patio and walkway installation for northern Virginia homes
Walkways are a great way for northern Virginia homeowners to highlight focal points in their backyards. Our design team creates stunning plans that lead guests to comfortable patio seating, cozy fire pits or even water features. We can design a walkway that matches existing landscape elements or build a patio for social gatherings with hardscapes that create functional space and allow you to enjoy more sun-drenched afternoons outdoors with the ones you love.
We offer the very best building materials so you get a stunning pathway that can withstand years of use. Choose from stone pavers, brick, and natural options like slate or flagstone. Distinctive Deck Designs brings superior customer service and high-quality results to your doorstep:
More than 20 years of experience in outdoor living space construction
Your choice of building materials
High-quality manufacturers, including Techo Bloc and EP Henry
Our team is led by Mark Shriner, one of the most respected general contractors in all of Virginia. He and the landscape designers at Distinctive Deck Designs have done more than their share of custom work. From covered patios to walkways, each custom design becomes a work of art. If you have a vision for your outdoor space, we can help bring it to life.
We value customer service above all else. Our hardscape designers will work closely with you at every point in your project so that your ideas serve as a centerpiece for what will become the finished product. We will discuss the specifics of your project and take the first steps in making your dream a reality.
We love the work we do – and it shows! Distinctive Deck Designs is where experience and creativity come together. We are committed to creating beautiful hardscapes you can enjoy for years to come. Call Distinctive Designs at 703.263.9634 to schedule your free consultation.
Share On...