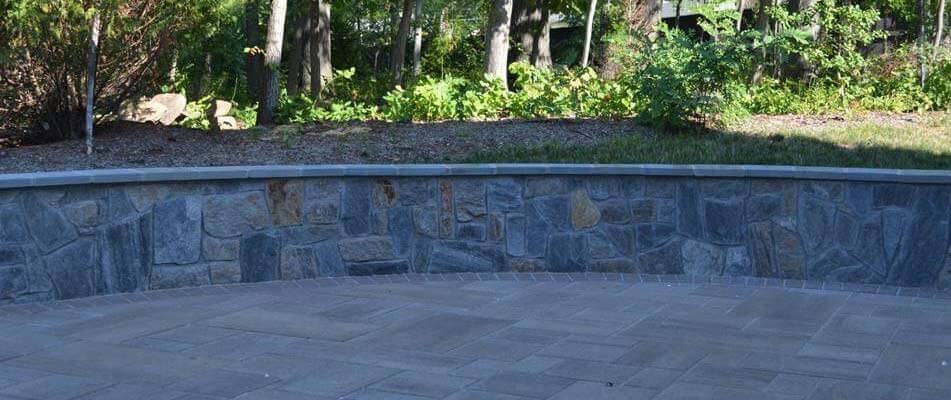 Fairfax Retaining Wall Contractor
We offer sitting and retaining walls that make a wonderful addition to your outdoor space.
Retaining walls are generally used to retain soil in sloped areas, and serve an important purpose in that regard. The experienced general contractors and landscape designers of Distinctive Deck Designs remind you that they also provide a wonderful custom decorative landscaping tool that can help you to upgrade your outdoor aesthetic. We have built a number of sitting walls on patios, most of which are put around fire pits and fireplaces in Fairfax. Should you be interested in such a design, we will work closely with you to make certain this custom landscaping option assimilates with and accentuates its pre-existing surroundings. Our team of Northern Virginia natives is led by Mark Shriner, and offers decades of residential construction experience. We can provide you with a retaining wall that is aesthetically appealing and looks like a natural fit on your patio. Learn more about this appealing option and more by speaking with Mark Shriner and the team at Distinctive Deck Designs today.
Our sitting walls and retaining walls will assimilate nicely on your patio or in another outdoor area.
We work closely with our customers so that we can create a finished product that exceeds their expectations.
We will work in a professional manner at all times, and will leave your home in better condition than we found it
Call today to schedule your free initial consultation
Our team of general contractors and landscape designers love working with their Northern Virginia neighbors. The opportunity to help their outdoor spaces come alive is one we are grateful to have, and one that we never take for granted. We would be happy to show you several examples of sitting and retaining walls we have created in the past so that you can gain a better idea of the quality of work we do.
No matter the scope of your custom decorative landscaping project, you can rest assured that our team is always up to the task of creating a finished product that will exceed your expectations. We are always here to take your call, so call Distinctive Deck Designs in Fairfax today at 703.263.9634 to discuss the residential construction project you have in mind.
Share On...