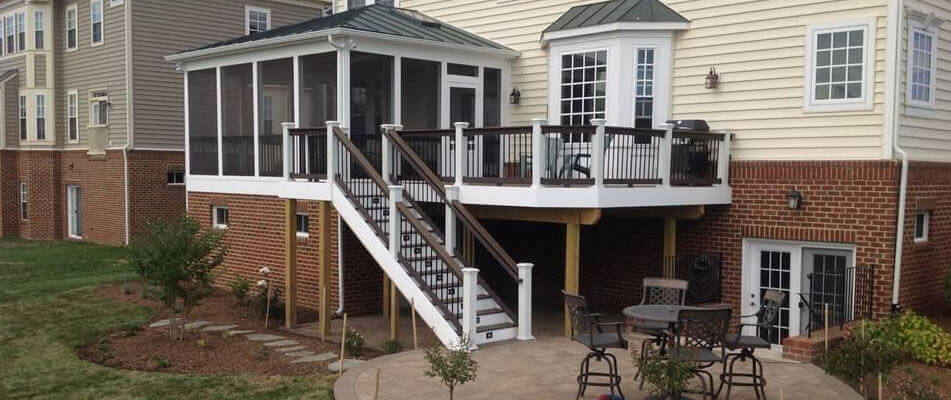 Northern Virginia Screen Porch Designs
We work closely with our clients to create breathtaking screen porch designs
Those looking for unique screen porch designs or front porch designs are encouraged to call Mark Shriner and the team at Distinctive Deck Designs. Our screened in porch designs are anything but run of the mill. A landscape design or patio design from Distinctive Deck Designs will improve your home as it has the homes of a number of your fellow Northern Virginians, and we can do the same for you. There are many general contractors to choose from, but not all of them are up to the task of creating memorable covered porches that accentuate your outdoor space. Distinctive Deck Designs is committed to designing and building a finished product that you will be thrilled with on every level. Furthermore, we will do so within your prescribed budget. We would love to speak to you about your vision, and show you how we can bring that vision to life with our innovative designs and custom installation. As North Virginia natives ourselves, our team gets a special pleasure out of improving the homes of our friends and neighbors. Call today!
Our team is made up of skilled and experienced craftsmen who have a history of creating beautiful screen porch designs in Fairfax. We think you'll enjoy working with our team, and find the design and installation process to be a rewarding one from start to finish. Let us help you to make your outdoor living space a wonderful place to spend time in peaceful solitude or with family and friends.
No project is too big or too intricate for the experienced professionals at Distinctive Deck Designs. We offer both single- and multi-level designs, and we can design and build special features:
Our team brings a wealth of experience in the design and installation of screened in porch designs
We can help with you both back and front porch designs
We bring 20 years experience in home building and the construction of outdoor living areas to each and every project we undertake
Our team is comprised of North Virginia natives who have a great feel for the style of homes in our great state and what types of upgrades fit them best We will always take the time to listen to you to get a feel for your vision.
At Distinctive Deck Designs, we want our clients to have the highest expectations for the work we do. They should expect greatness from us and the work we do as general contractors, because that is what we expect from ourselves. You may reach us at your convenience at 703.263.9634, or on our website at www.virginiadeckdesigns.com. The patio, covered porch or landscape design you've always desired is well within your reach, and we would love the opportunity to bring that upgrade to your home.
Share On...