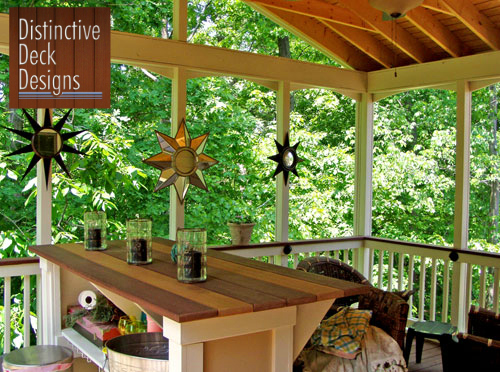 Northern Virginia patio builders are not just good at building patios, but also know how to sell their designs to potential clients through photography. Taking an exceptional picture of your home and outdoor space, like a Northern Virginia deck, is important when selling it. Pictures really give you the chance to showcase a spot and pique a potential homebuyer's interest in it.
When doing home photography, it important to use the best camera that you have. Make sure all images are in focus and are well-lit. You don't want to have someone pass on your house due to poor picture quality. This doesn't necessarily mean that you have to have professional equipment; it just means that you might want to skip cell phone photos.
Here are some types of pictures that will truly make your home shine.
1. A Staged Photo – This type of picture is important because it helps the buyer see the true potential of your home or outdoor space. Simply invest in a few new decorative items like throw pillows to spruce up your furniture. The point is to make the space look updated, stylish and comfortable.
2. A Perfectly Angled Photo – Instead of opting for a standard photo from your point of view, think outside the box with a different angle. Grab a step stool or ladder to see what you may be missing at your height. The contrast may surprise you.
3. A Golden Hour Photo – There is a special time of day that photographers deem "the golden hour." This time falls between 5 and 7 o'clock in the evening. During this time, sunlight is redder and softer creating subtler shadows and highlights. The golden hour can create the right ambience for a deck or house photo.
4, A Nature Photo – Feature a photo of your newly landscaped yard. Pristine landscaping can be a real selling point for potential homeowners and a lush green yard will make your house stand out.
5. A Dusk Photo – A landscape shot of your home illuminated at dusk is the perfect photo that says, "welcome home." This type of photograph is not often used, but can really show off what your house's lighting looks like in the evening. Now, remember that it is a picture taken at cool-blue dusk and not pitch-black night.
When it is time to put your home on the market, remember to have these pictures in your portfolio. Contact us for more tips to improve your curb appeal.