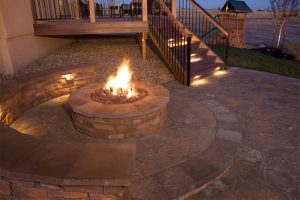 Northern Virginia residents love spending time outdoors. Installing a fire pit or backyard fireplace is one way to extend outdoor living enjoyment well into the evening hours.
If you are ready to expand your backyard space with an outdoor fireplace or firepit, stay mindful of fire safety in order to help prevent a backyard disaster from occurring. Here are three key safety tips that will protect your backyard fire pit and your outdoor living space from a fire-related accident.
Install Your Backyard Fire Pit in the Right Location
Choose a space in your backyard that is protected from the wind. This means an area where the wind doesn't flow as freely, which will keep the smoke from your fire pit from disturbing nearby neighbors.
This key location will also need to be far enough away from combustibles. It's recommended to have 10 feet of open clearance all around and above the fire pit or fireplace. This also includes any fences, building structures and any overhangs, like a patio awning. Trim and prune nearby trees and hedges to prevent them from catching fire or experiencing any heat-related damage.
Choose the Right Kind of Fire Pit or Fireplace Burning Materials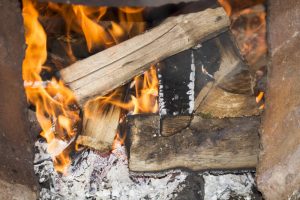 Prepare kindling with leaves and sticks from your own plants or from a local gardening store. Avoid mulch or any treated wood items because they may cause your fire to burn too hot for the contained placement and cause damage.
Never use green or wet wood. If you are not sure if the wood is dried out enough, take a knife and scrape at the outer edges beyond the exterior bark. If the exposed wood releases any type of sap or appears to have a green tint, then the wood needs to dry out longer. Broken pallet pieces are great for backyard fire pit fuel.
CAUTION: Do not use any fire accelerants like lighter fluid in your backyard fireplace or fire pit. These liquids can damage and erode the inside protective coatings of your fire pit. They can also cause dangerous, uncontrollable flare-ups.
Follow Proper Burn-out Procedures for Open Flames
Let the flames and embers die out naturally. Do not put water on them to accelerate the cooling process because this can cause the temperature to drop quickly and crack the walls of the fire pit. Always be prepared for emergency situations and have a bucket of sand or water within arm's reach to douse the flames in extreme situations. If your outdoor fire element does crack, consult with an outdoor living contractor near you that provides masonry services. They can help inspect your fireplace or fire pit for damages. Some cracks are superficial and will not compromise your outdoor living fire element, while others are more serious and will require repairs before your next use. These contractors often can provide repair services to prolong the life of your backyard fireplace or fire pit.
Always be prepared to douse #firepit flames with water or sand. #firesafety
Click To Tweet
The day after using your fire element, the embers and ashes should all be cooled. When they are, shovel and store the ashes into a metal trash can or bucket. Ashes are acidic and will erode the interior of your fire pit or fireplace if not removed. You can douse the ashes in water once they are in the metal canister to help avoid any flare-ups or re-kindling.
Simply put, location, materials and natural burn-out are all key to a proper outdoor living fire. Don't forget to clean your backyard fireplace or fire pit before the next use, especially if you haven't used it in a long time. Debris is highly flammable and can create a dangerous situation when ignited.
Distinctive Deck Designs has a masonry team on staff that does all our stone patio work. We are experienced with many types of patio pavers and stone indigenous to the Northern Virginia community. Ask us to inspect your outdoor fire pit or fireplace today! We also provide patio and walkway remodeling services for homeowners wanting to upgrade their curb appeal. Get in touch with us online or by phone for quick appointment scheduling!