A deck is the perfect place to enjoy time with family and friends, provided it is safe. Amazingly the number of deck related injuries and even deaths has consistently risen in this decade; deaths and injuries that could and should have been easily avoided.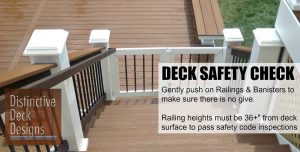 In fact, the problem is such that the North American Deck and Railing Association (NADRA) is working to increase awareness as to the importance of regular maintenance and inspection of existing decks. As Virginia's leader in deck design and patio construction, Distinctive Deck Designs is doing their part to get the word out as well.
If you're smack in the middle of creating deck plans and preparing for your deck construction, it's important to educate yourself as to the many reasons that a deck may become unsafe. Poor construction, a lack of proper maintenance, exceeding load capacity, and age of the deck may all be contributing factors to a potential deck collapse.
It is vitally important to choose a professional and proven deck contractor for your construction; one with a track record of experience, a portfolio of quality work, and a host of professional references. Remember that not all contractors are created equal.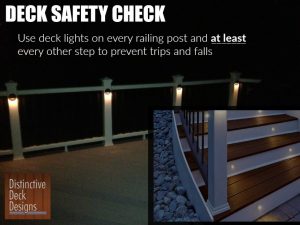 Doing your due diligence when choosing a contractor will go a long way toward ensuring the quality of craftsmanship and the long-term safety of your deck.
The first step in building a deck is making certain that it is code compliant. You must obtain a permit from your local municipality's building department prior to construction. Building staff members will make certain your deck's plans fall within building codes. In addition, you may expect a local building inspector to visit your home several times during construction to make certain that building codes are being adhered to.
Perhaps you have an older deck; one you built some time back or inherited with the purchase of a new home. It is always a good idea to have older decks, especially ones with which you are not familiar with the building process, inspected by a professional. A simple inspection will tell you if your deck is up to code and identify any potential safety issues and what must be done to remedy them.
Is your deck as safe as it could be? Take the proper steps to ensure that your deck remains a fun and safe gathering place for family and friends.