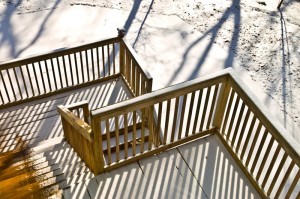 As the last leaves of fall blow away, and the first chill of winter sets in, the educated homeowner knows that now is the time to prepare your deck for winter. Homeowners with wood decks will need to wash, stain, and seal them – a process that can take several days. As the proud owner of a TREX composite deck, you already have a leg up on your neighbors.
PLANTERS
While it's fine to leave your planters in one spot during the warmer months, wintertime        moisture can cause a great deal of damage to the surface of your deck, leaving behind unsightly rings and boxes. It is recommended that planters are stored indoors, or at the            very least underneath your deck.
FURNITURE
Now is the time to wash your vinyl and wood furniture. Be sure to inspect it for damage        and make any necessary repairs before storing it away for the season.
SNOW REMOVAL
For small amounts of snow, a broom would be the preferred tool of choice. For larger jobs, a plastic shovel is recommended. Be sure to run the shovel lengthwise across the         boards to minimize scratching or cutting into the wood. Never chop or scrape as this can damage the surface of your deck. You can use calcium chloride or rock salt to melt away any ice collected on the surface, but be sure to rinse it off as soon as possible.
The arrival of winter can be challenging, but caring for your TREX deck doesn't have to be. If you follow the guidelines above you'll be able to keep your TREX deck as beautiful as the day it was installed.