I bought my first home and as a single mom I am very particular about how things look, feel, and smell.  Especially because I have a 5 year old running around. Most peoples' first home is a fixer upper, so I am happy with the home I bought as a first timer, it has potential.
It took me countless hours to make the inside of my new house feel like home.  The next step is to develop the backyard into somewhere I can entertain my friends and family.  There is a fence and a little playground for my son.  I also have a deck that is like the entryway into the house. Right now, the deck is horrible – design, wood, stain etc.  What my deck needs is a makeover!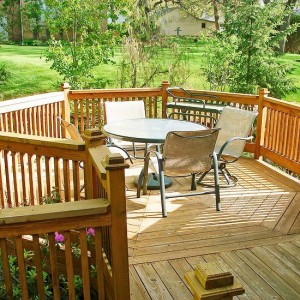 I sat down and wrote out the functions that I want from my deck.  I want it to feel open, how can I entertain people with zero room?  I also want it to be functional. If I have things I want to do, the deck needs to be conducive with what I plan.  Of course it needs to be safe, not just for my child but for anyone that visits.
Looking into many different sites I have found a company that handles all of my needs.  I found a local contractor that carries TREX products.  An all-weather, long lasting composite decking that comes in any color I could want plus they can even do curved decking!  I was able to come up with a design that has a lot of seating built into the rails thus keeping the main space open but allows many people to be comfortable.  Plus I have decided to add a hot tub to the deck for the fall nights.  They were able to match a color that I like, and assure me that my little one will never get a splinter, which brings me peace of mind.
I am happy to say that I can finally call the inside and outside of my new house home.  Now if I can just order a makeover for my kid's temper tantrums I'll have a perfect life.