November brings seasonal rain and cooler temperatures for the Fairfax, VA area, but it does not slow down our deck construction. Recent reports from Remodeling Magazine show that adding at least a 16-foot by 20-foot composite deck is a great way to add resale value to your Northern Virginia home. Distinctive Deck Designs wants you to know that a little bit of rain and even snow does not stop our Fairfax, VA patio and deck contractors from filing permits with the city and county to break ground on your newest home improvement feature.
Off-season deck construction in Northern Virginia is about 10-15% cheaper! Get a FREE quote today!
Click To Tweet
Our patio and deck contractors provide outdoor living construction, expansion and remodeling year-round. In fact, we consider November through February our off-season months, and this means you can save 10 to 15 percent on all deck construction services. We also build sunrooms and gazebos, and we can improve front porch facades.
What You Need to Know and Ask About Patio and Deck Construction
It is important that you think beyond the actual deck structure itself for resale value and maximum outdoor living comfort. Ask yourself and our contractors the following questions:
What deck or patio features retain resale value?
How to maximize outdoor living space use?
How can I protect my space from pests and elements damage?
What types of maintenance is involved (and the costs of such)?
Remodeling Magazine does annual studies about home improvement projects and their resale value. Within the past couple of years, those reports show a consistent resale value of up to 60-75 percent for composite deck structures in Virginia. A custom deck by Distinctive Deck Designs can provide you years of usability and stronger resale values.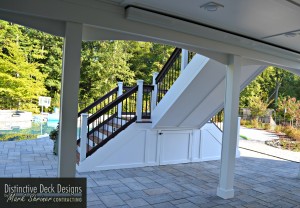 Be mindful of your space and desired features. Make your deck work for you. Spaces underneath stairways are a great opportunity to incorporate storage for all of your holiday décor for your outdoor living spaces. We cannot stress the beautiful convenience TREX®'s outdoor living benches, drawers and outdoor kitchen elements.
We provide outdoor landscape lighting options for Fairfax homes that lengthen the time you can spend on your outdoor feature. Work with our landscape contractor to find best lighting option to combat pests that are attracted to lights. Decks in Fairfax, VA are still essentially outdoor spaces, so if pests and privacy are a concern for you, consider a sunroom or gazebo instead.
Hate bugs? Choose a sunroom or gazebo outdoor living space instead.
Click To Tweet
Composite material decks and patios incur less maintenance fees than a wood deck. The New York Times revealed that homes in the Northeast that chose to install pressure-treated wood decks typically had costly maintenance after two years of use. Examples of deck maintenance included repainting, wood plank replacements for warped wood and mold or mildew remediation. Repeated treatment for these types of decks can get expensive fast. In comparison, the composite materials we install (TREX®) have warranties to protect your investment from color fading and material warping. The cost of preventing mildew or mold on composite decking will recoup costs of the higher material installation costs within the first five to 10 years in drastic comparison to pressure-treated wood maintenance costs.
Mark Shriner at Distinctive Decks Designs wants to work with you on your next home improvement project. Our patio and deck construction team is unparalleled throughout Northern Virginia, and we work with all types of home styles including those within HOA communities. We will conduct a FREE on-site consultation with you and include you in the design process before we break ground. Get started today, and you could save up to $2,000!