Let's be honest – the spring and summer seasons in Northern Virginia are gorgeous compared to other parts of the country. We sure wouldn't want to have the 110-degree blistering heat found in the Southwest, and let's not forget the tornado zones in the Midwestern belt or the sticky humidity levels in the Southern Atlantic region. It makes complete sense why homeowners here in Northern Virginia love their outdoor living spaces! We get the perfect mix of beautiful weather and breezy nights where lighting the fire pit creates the picturesque ending to the work week.
Homeowners in Aldie, Woodbridge, and other Fairfax-area suburbs are investing in porch and deck construction. Think about your neighbor down the street. Didn't they just have a new deck put in? Whether you're still in the pre-decision stage or ready to upgrade your porch now, here are some patio deck designs to consider.
Screen Porch Designs
Screens may not sound like the most inviting approach to closing off outdoor spaces, but they are handier than you think. You can enjoy even more time in your patio space without worrying about flying pests from invading your morning coffee or your outdoor brunch with friends.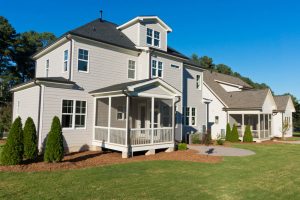 Screened in porch designs are also ideal for those who experience pollen allergies. While it is not foolproof, it does keep dust, blowing leaves and pollen off your porch and away from your sinuses.
Portico Porches
Add some colonial flair to your home with a portico porch. This porch construction option is ideal for lower budgets and adds considerable front door appeal. It also shelters the front door, which is handy during rain and snow seasons. Consider outfitting this front porch design with some beautiful carved columns or stacked rock.
Pavilions or Screened Gazebo Designs
Perhaps you want some outdoor space that isn't in direct sunlight. That's where a pavilion could be the right patio design for you. This is an open canopy style of outdoor living construction that is often used to cover a spa, outdoor kitchen, patio furniture area, and heating elements. Another option is a screened gazebo. These patio designs are beautiful as a reading nook, garden feature or an outdoor living area.
There are options beyond the standard front porch design for your home. All you need to do is determine the reasons you enjoy spending time outdoors and have a deck built to match. To determine the best fit for you and your home, ask our Northern Virginia patio contractors for a free design quote.
Distinctive Deck Designs is an Angie's List Super Service winner with a licensed, bonded and insured contractor team. All design quotes are estimates until final design features are agreed upon by master contractor and homeowner.