No matter where you are across the U.S., covered decks, porches and patios are becoming ever more popular. Many people question why this is, considering that the whole point of an outdoor area is to enjoy the sunshine. However, some individuals also like having the choice to control the amount of shade they receive. After all, incessant sunshine can cause you and your guests to feel hot, sticky and uncomfortable over time. As your local deck contractor, we are here to explain how creating a shaded structure provides several options and benefits.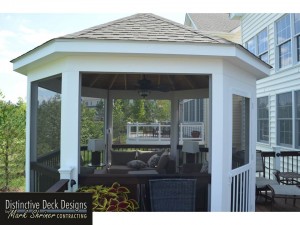 Constructing a covered space over your deck, porch or patio can be open or screened-in. If shade screens are utilized, the space becomes a sunroom, which is perfect for an outdoor entertaining space. Don't want to opt for screens? Attractive drapes also provide you with all the shade protection you require! Just tie them up when they are not needed, and your space will still look smart.
Isn't the trend "open concept," not enclosed?
Great question! Some individuals use screens to block out pests. Unfortunately, the beautiful summer and fall evenings throughout Virginia are often accompanied by the presence of flies, mosquitoes, gnats and other pesky insects. The screens also help provide effective UV ray protection, which ultimately protects you, your guests and your outdoor furniture fabrics from sun damage. In addition, perhaps you would like your outdoor entertaining space to have evening lighting. If so, an experienced contractor will be able to incorporate electrical outlets to power these types of amenities. Just think – you could charge your phone and tablet while you enjoy a morning read at the weekends!
Last year, we mentioned the benefit of uninterrupted outdoor events. Sadly, sometimes bad weather will threaten to cancel your all-important afternoon BBQ soirée. However, having a covered space allows you to continue with your plans, with only some minor adjustments. Consider housing your deluxe BBQ unit beneath a covered area to protect it from the elements year-round.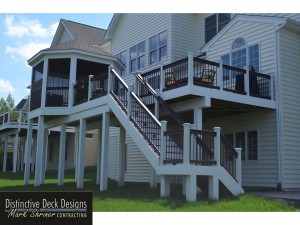 Earlier we mentioned how screened-in decks, patios and porches offer UV ray protection. This is because the sun's rays can gradually deteriorate your wooden or composite deck over time, which causes color fading, dried out wood or peeling. On the other hand, if the area is covered, it has an extra layer of protection. This will thankfully prolong its lifespan before repairs become a necessity.
How can I make the space look natural?
Our deck contractors work hard to mimic your current home's aesthetic by matching roof shingle type and color as well as other architectural features such as crown molding, rain gutter type, pillar features and much more. Check out our gallery to see the covered spaces we have previously constructed for clients near you!
Still have questions? Mark Shriner and David Tingle would love to hear from you. Distinctive Deck Designs has worked with Northern Virginia homes' outdoor spaces for over 20 years, and we welcome questions about all types of outdoor construction and landscaping. Feel free to use our contact form, or send questions to our Facebook, Twitter or Houzz.