After your first conversation with Mark Shriner, our lead Virginia deck contractor, you may be wondering why we put so much focus on composite materials. As Pro Platinum Installer of TREX products, we have pride in TREX's quality and durability. Not only is it considered an eco-friendly product, but it is low-maintenance and is not impacted by extreme weather conditions in the same way as wood.
Mark and his team will work with you regarding your cost budget and overall look. If you have an existing deck and decide to upgrade with composite materials, we can simply remove the surface of your current deck and evaluate your existing joists and rectify them as needed, before resurfacing with a composite deck.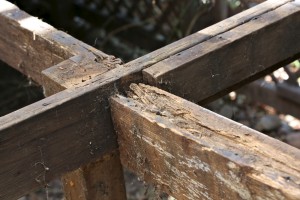 As with any construction project, there may be some hidden surprises. Here are areas we look for with your existing joists to make sure they are adequate for new surfacing:
Is there any sign of dry rot? This is a condition when the wood has a fungus, which compromises the structure and its function. It usually causes shrinkage, darker color and cracks but can also resemble a mold-like presence in humid conditions. Dry rot weakens the integrity of the wood, so the cost of replacing any and all pieces depends on the amount as well as the overall size of the space. You may also incur another cost—treating all existing wood to ensure the fungus does not affect the good wood.
Is there any rodent or termite damage? Gophers are known to destroy wood materials. You will see gnaw bites from their teeth biting into the wood. Termites, on the other hand, will either still be actively present or have left visible tunnels used to travel up and down the joists. If termite damage has occurred, you will want to inspect other areas of your home to make sure you don't have an active infestation, which requires immediate pest control intervention. Termite control can be a costly recovery, but it is well worth it.
Has the wood warped from weather conditions? If there are any bent pieces of wood, your contractor will likely replace these planks to ensure sound construction for any resurfacing projects. The cost of replacing planks is also dependent on the amount to be replaced, as well as the size of the space to ensure safety for all who will use your renovated deck space.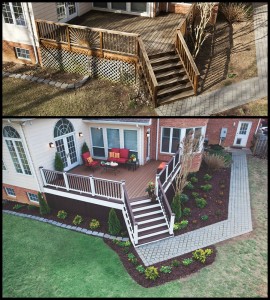 Once all structural conditions have been corrected, you are ready for your new composite surfacing. Our team will work with you regarding colors, railings and other security features, such as outdoor lighting, security gates and storage options. Installation time will depend on the size of the project, but you'll have full disclosure on project scope from Mark and his team before we break ground.
Getting a deck face lift can be a remarkable difference. Take a look at the contrast we're able to provide for homeowners using TREX materials! We invite you to browse our deck gallery to get inspired for your new renovation!
Distinctive Deck Designs is based in Clifton, VA. We have worked closely with homeowners in all the Northern Virginia cities. Our experienced crew members treat your space with respect and deliver excellent results you'll love for years to come! Get started today by calling 703.263.9634!