Many new homes in the Northern Virginia area have a wide backyard with few or no fences in between properties. What home builders consider a back patio is literally just an eight-square-foot concrete slab. If installing fencing or an elaborate covered porch is not in your budget, there are options to help create the illusion of privacy for your back patio.
For Uncovered Concrete Slabs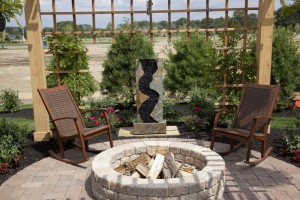 If a dream porch is your next investment, you can create temporary privacy until you can afford a more elaborate outdoor space. Garden trellises are great for providing shade solutions as well as temporary walls for your patio space. Attach trellises to create "L"-shaped walls from your house or patio sides with angle bars and fasteners. Soften the look with inexpensive sheets to mimic outdoor drapes.
A great option to consider when the budget allows is to build a feature wall on one side of the slab then connect your home to the wall with pergola studs for a beautiful shade option.
For Covered Patios with Open Side and Back Views
Trellises can also help in these scenarios, but many home owners like the ability to control light and shade since privacy is only necessary when they actually use the space. Outdoor drapes are a convenient solution to achieve privacy for these areas.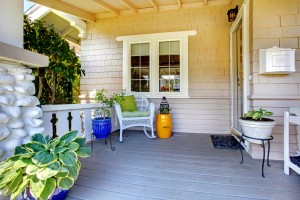 Another option is to use slim shrubs and gain privacy with plant life. Blackhaw Viburnum and Dogwood shrubs are great options for Northern Virginia homes, but check with your local nursery regarding sunlight exposure and maximum heights to ensure that the shrubs will meet your needs. Also if you plan on putting plants close to the house or any wooden structure, prepare the area for pest control to help discourage termite and other pest damage.
If permanent plant life does not appeal to you, hanging plants are a great way to draw the eye away from any seated guests. Neighbors are likely to admire your plants, hanging wind chimes or any other yard art instead watching your visit with guests.
For Multi-Tiered Decks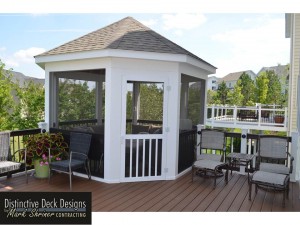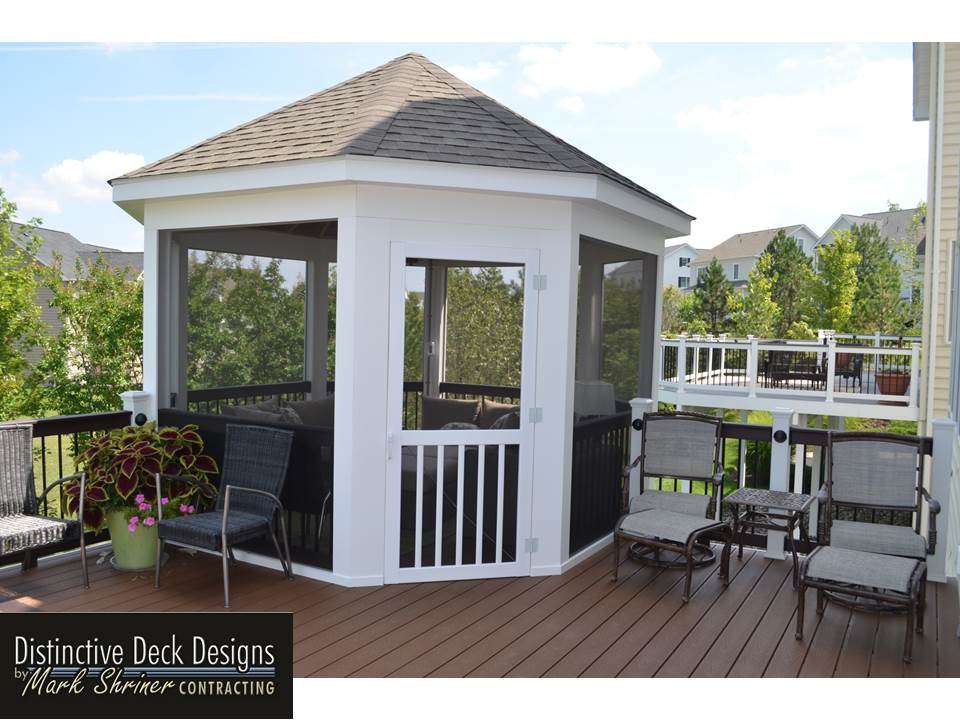 Creating privacy on a multi-tier deck may seem impossible when nearby homes have windows on several levels, offering an easy view of your home whenever you're barbecuing for the family or simply enjoying a good book while relaxing on your outdoor furniture. Sunrooms are a great option to enclose a space of your deck for insect control and privacy from peering eyes. This is a more expensive option, but it also has a large ability to increase your home's value. Customize your sunroom with electrical outlets and a circulation fan to allow you to further maximize the investment.
Back porch privacy is achievable. Consult with Mark Shriner and his patio builder team to customize your space beyond DIY efforts.
Distinctive Deck Designs has improved home values throughout Northern Virginia for more than 15 years. Our patio and deck construction team works with existing layouts and clients' needs to create breathtaking outdoor living spaces. Schedule your personalized on-site consultation with Mark Shriner today: 703.263.9634