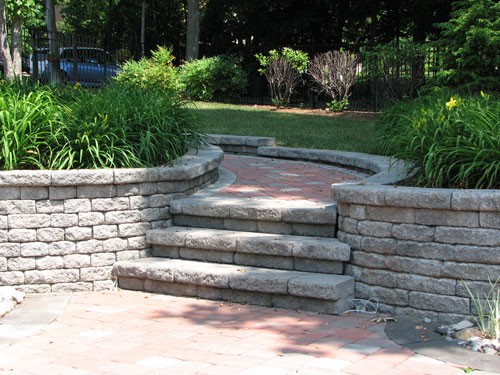 At Distinctive Deck Designs, we create custom patio installations and unique walkways using stone pavers. These landscape elements are truly impressive and can completely transform your outdoor living space. We want to ensure they keep their beautiful appearance for years to come, which is why we equip every client with tips and tricks to maintain your stone patio. Northern Virginia residents should set aside time in early spring each year to complete basic patio maintenance.
After our team completes patio construction, we make sure you have the tools you need to maintain your new outdoor area. Our knowledgeable team will provide information that is specific to the materials installed at your home. Stone patios have to be protected in order to stand the test of time. There are few ways to take this on and get started on your own patio this season.
Cleaning Your Patio
One of the first steps in the patio maintenance process is to clear away dirt and debris that may have accumulated. Use a stiff, non-metallic broom that won't scuff or scratch the surface or use a leaf blower to get between joints. If there are stains on the surface of your patio, use a garden hose on low pressure to remove it. If the stain is set-in, we recommend using mild soapy water or a mixture of vinegar and water. Scrub this with a small brush to penetrate the surface of your patio. Rinse with a garden hose afterward to reveal a clean, even surface.
Weed Prevention
Weed prevention starts by ensuring the joints between stones or pavers are not exposed. Polymeric sand is great at preventing future weed growth, and it's easy to use. Every product is different, but usually the process involves filling joints with the sand and brushing it evenly into cracks. You then mist the space with water and let it dry completely before use. You can also use a mild weed killer during the "off season" to keep up with any weeds that have sprouted.
Stone Sealant
After you've cleaned the surface of your patio and removed weeds, you're ready to seal the surface. Allow your patio to completely dry before you move onto this next step. One of the easiest ways to protect your stone patio from the elements is with a sealant that is applied every three to five years. Sealing your patio also keeps the color from fading when sitting in the sun and protects it from heavy rain fall, snow, and the accumulation of dirt and debris. Before choosing a sealant, we recommend consulting with Distinctive Deck Designs to ensure you use the right sealant for the type of stone you have installed.
Taking proper care of your stone patio doesn't have to be hard, but it is necessary to keep your patio looking its very best. We recommend following our tips and tricks so you can enjoy your outdoor living space. If you have any questions, or would like to request a free design consultation, visit us online.