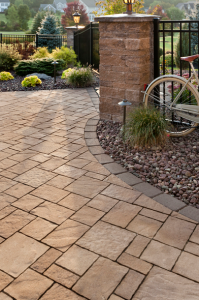 Hardscape products make a durable, beautiful addition to any Northern Virginia patio. Hardscape refers to hard flooring ideal for outdoor areas. This can include slate rock, bricks and other types of rock pieces. When installed, they are adhered together with mortar to keep the pieces in place. Think of it as outdoor tiling but with many different types of rock or brick pieces available.
Those in the home renovation industry frequently use hardscape products when designing a dream patio. When it comes to outdoor patios, most home builders only include unimaginative concrete slabs. Patio builders, however, see these empty spaces as great potential for homeowners' customized areas.
Right now, residential homes can choose from the following "floor" options for their patios:
Standard concrete (most standard)
Stained/painted concrete
Rock slabs
Interlocking brick pavers
Cobblestone
Outdoor hardwood flooring
Composite decking
Tiny gravel
Artificial grass
Poured rubber (for kids' safety)
Distinctive Deck Designs is best known for our composite decking installations, but we also install paver stones and brick of all sizes and types. Other options listed above are not services we provide. With outdoor living trends showcasing beautiful outdoor patios all over the country, more homeowners in Fairfax and nearby city residents are turning to hardscape for patio renovations.
Not only do hardscape products allow you to personalize a space beyond the drab color of concrete, there are many different types of textures and tone variations available. Some elect to have uniform pieces installed in a certain pattern, and others like the bold look of random sizes and colors pieced together. There are even slip resistance options for installations surrounding a pool!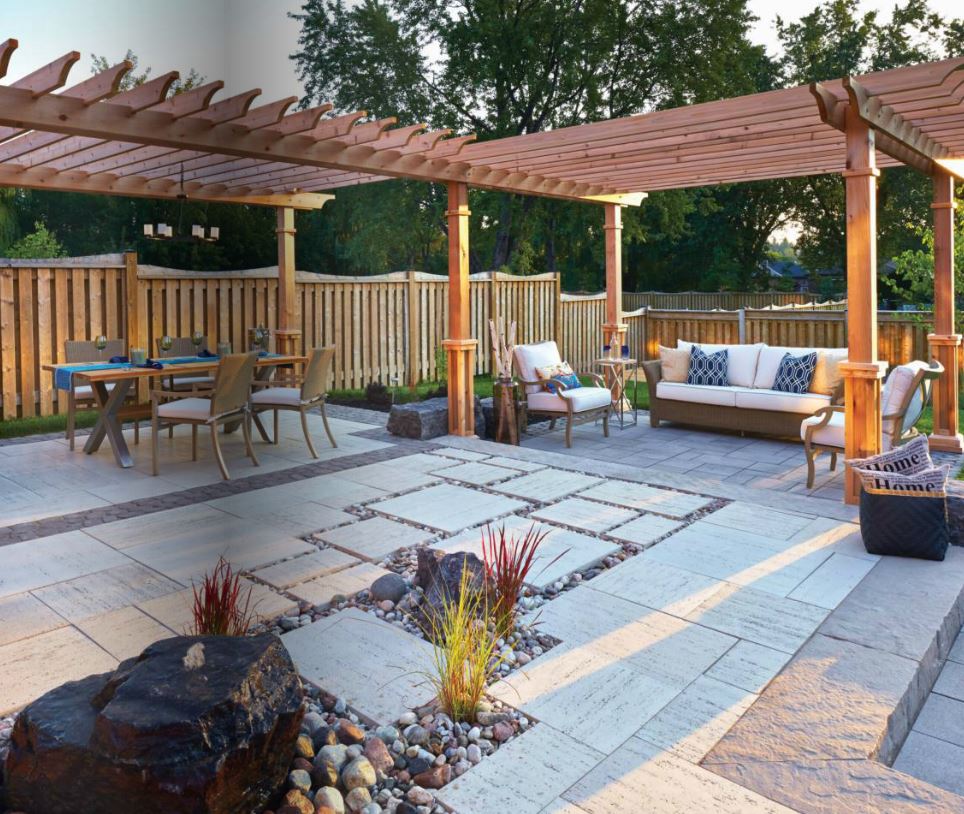 The options are endless, and we have a great partnership with Techo-Bloc for outdoor living hardscape flooring products. They have increased their line with many unique options excellent for any Northern Virginia home. Check out their 2015 Catalogue for inspiration!
It's never too late to add personality to your backyard space. We recommend you do research before hiring just any patio builder though. Great criteria to check before hiring a contractor include:
Double-check that they are experienced specifically in stone masonry and hardscape installation
Ask for on-site consultations. Your consultation is best done on-site, so the contractor can see the land and evaluate if leveling and other concerns need to be addressed
Request photo documentation of your desired hardscape option to prove that they have worked with that specific product before
Check their reviews on trusted websites, such as the Better Business Bureau and Angie's List
Research their contractor's license to ensure it is still valid and active for your state; it is also recommended to only hire a contractor if they are insured and bonded in your state as well
Mark Shriner is the owner and main contractor for Distinctive Deck Designs in Northern Virginia. Our company has served this community for 15 years and continues to make an impact in outdoor living. Check out our award-winning designs in our gallery, or fill out our form to request a FREE consultation today!