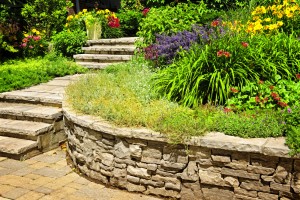 If you want to use your yard for gardening, landscaping or additional yard space for a patio but cannot due to slopped land creating a threat of downhill erosion or weakening of your house's foundation, the best solution may be to have a retaining wall installed. Retaining walls create usable land on inclines that was once unusable due to prior conditions. There are also many benefits that a retaining wall can do for you and your home.
Retaining walls gets its name from its ability to retain soil. Over time, soil shifts due to wind, rain and water runoff. By installing a retaining wall in key locations, you can prevent soil from spilling into your driveway or from possibly killing plants and disrupting your landscaping. Your wall can also redirect torrents of water and prevent flooding of your grass and plants.
The functionality of a retaining wall goes beyond stabilizing and protecting your yard. Retaining walls can also be created around fire pits and fireplaces as seating. Sitting walls can be a powerful landscaping tool to enhance your backyard aesthetically. These can be customized to suit an existing patio or complement its pre-existing natural surroundings to make your patio really stand out.
You are never limited with what you can do with a retaining wall. With its many versatile functions, you could arrange a retaining wall from a small raised flower bed in the front yard to having it surround your entire property. Installed correctly, a retaining wall can withstand tons of weight and can hold up for decades without any maintenance. Natural materials used that are local to the area will be accustomed to weather conditions and will not need to be replaced or repaired, saving money.
A home improvement such as adding a retaining wall for any circumstance will add value to your home, making it an affordable investment. Using natural materials will also give home buyers versatility if they want to move the wall or pieces of it for a different use; for instance, if a flower bed was once surrounded by a retaining wall but the buyer wants to use that space for a garden.
At Distinctive Deck Designs, we only use the finest materials for retaining walls from EP Henry and Techno-Bloc. For more than 20 years, we have serviced the Northern Virginia Counties with experienced contractors and guarantee satisfaction. Contact us today for your free consultation.