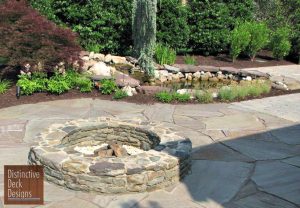 'Tis the season to enjoy the outdoors! With many of the mosquitoes and other pests leaving our state for warmer climates, it is a great time to start entertaining outdoors. Many homeowners are translating some interior kitchen design elements to their outdoor porches and patios. How can you update your outdoor living space to reflect your home's current design? Distinctive Deck Designs is a leading home exterior design contractor with experience in constructing outdoor fire pits, patio kitchens and outdoor fireplaces! Get inspired with the following porch trends!
Homeowners love their giant outdoor kitchen islands as a multi-functional space. These days you will often see them outfitted with stylish granite, stacked slate or flagstone pieces and even incorporating deluxe grills! The trick is to make this a space that will be used. Here some tips for the ideal outdoor kitchen island:
Don't be an impulsive appliance buyer. Some deluxe grills, for example, include rotisserie elements or exterior stove-burners and even ovens! Decide how and what you will cook on this grill to help narrow down your choices.
How important is water to you? Some outdoor kitchens include sinks and icemakers. These require water lines to be re-routed to service these areas. Be sure to do your research in ensuring your home's code will even allow you to re-route lines to this area and if your contractor is qualified to work with plumbing as some are not.
Consider seating. Some outdoor islands are not set up to include bar-like seating. If this is something you want, ask your builder to include this into your design, because they will need to order a large enough slab of your countertop material to allot for an overhang desirable for bar stools to rest underneath.
Outdoor living spaces love heating elements for those colder nights. Consider having a contractor build you an outdoor fireplace or fire pit! These focal point pieces can also be made with stacked stone or even with paver-style bricks! Our deck contractors are very experienced with stone work, and we proudly work with materials from Techo-Bloc and EP Henry. Here are some tips for your outdoor heating space:
Decide if you want outdoor furniture or built-in seating to surround your fire pit or fire place. Some homeowners have our contractors use the stacked stone for the seating area too, which can be used as-is or have pops of color in outdoor cushions with the colors of the season or their garden.
Determine your heating type ahead of time. Natural burning wood is very popular for outdoor fireplaces and fire pits, but some homeowners are electing for electric or liquid propane options. You will need to consult with your contractor if they are experienced in installing and preparing the space for these elements. If not, you may end up hiring two different contractors – one to create the overall stone look, and another one to install and set up these pieces.
You do have options when it comes to your outdoor living space. Consult with a patio contractor such as Distinctive Deck Designs to see how your dream can become a cozy reality!
Mark Shriner and his team at Distinctive Deck Designs have created many award-winning decks and patio spaces. Get inspired by our paver gallery; then call us today to arrange for your free consultation at 1.703.263.9634!