It's time to go outside and enjoy the warmer weather, Northern Virginia! We live in such a beautiful area, and the best way to take it all in is to spend an evening watching the sunset from the comfort of your porch. And when your porch is beautifully designed, the experience is even better. We've put together this collection of Virginia porch designs that look great in every season.  If your porch is in need of a makeover, take inspiration from these timeless styles!
Colonial or Victorian Porch with Portico Covering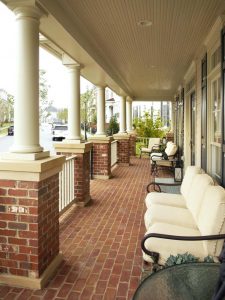 Colonial and Victorian style homes often have a brick exterior accented by beautiful wood workmanship in faux balconies, shutters and intricate molding around windows, doors, baseboards, and more. If you have this style of home, do not miss out on the opportunity to build a portico. Not only does this design stay true to the home's original design, but it also protects the front door from the elements and creates curb appeal. A true colonial portico will also feature beautiful, ornate columns. This style of covering is generally five-feet wide with around five to ten-feet in depth towards the door.
Screened Porch
Many homes in the Fairfax, VA area have screened-in porches or sunrooms to keep out the elements, as well as pollen and dust. A screened-in porch often uses composite decking because it's easy to clean and maintain. To make the most of this type of porch, we recommend adding windows between the wall columns and outfitting the columns with electrical outlets for heaters, fans and other conveniences.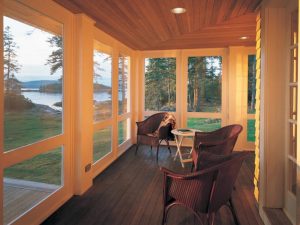 Mediterranean-Influence Porch
Not unique to the Northern Virginia area, this type of porch design conveys a breezy, intimate space. It often features long, flowing drapes that can be drawn for privacy or shade. What makes this porch style slightly different from others is the deck surface and incorporation of ceiling fans. Mediterranean style porches usually include outdoor tiles or slate pavers as a flooring surface and feature one or more ceiling fans to circulate the air. Be careful choosing outdoor furniture for this look, though. You need something that is approved for outdoor use, as the open nature of these porches means that the furniture will be in the sun a lot. Look for fabrics that are resistant to UVB or UVR sun rays. It's even better if you can find furniture that allows you to switch out the coverings if they fade.
Cottage-Style Porch & Landscape Design
This style of porch is ideal for narrow homes with smaller front yards. This style, often found in Craftsman homes, is distinguished by the raised porch accented by columns. The flooring is typically made with cement or composite decking surfaces. We recommend adding a portico to frame the front door. Complete the design with a brick paver pathway from the curb towards the front step.
Second Story Porch Design
This type of porch is a classic representation of everything Distinctive Deck designs can do for you. If you have a tri-level or second story home and want a second story porch, consider this covered deck porch style. These types of decks or porches are commonly built with composite decking due to its weather resistance. Since it's uncommon to see snow on second story porches, you can still find ways to use this space even in the colder months.
Choosing a porch design that you will use year round is important for your Northern Virginia home. Take advantage of a free on-site consultation from a licensed porch builder if you are unsure of which design features will compliment your home. Mark Shriner is the lead contractor at Distinctive Deck Designs and offers more than 20 years of outdoor living services to the Fairfax and nearby communities. He knows the area quite well and can make educated suggestions to ensure that you will love your renovated porch space for years to come!