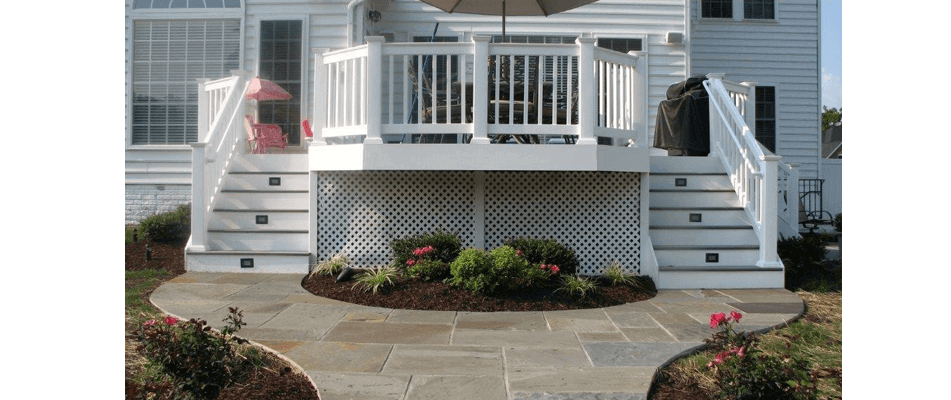 Patio and Walkway Design in Northern Virginia
Patios and walkways are a specialty of our talented patio building team
Those interested in adding or upgrading patios and walkways at their Fairfax residences should speak to the custom patio builders at Distinctive Deck Designs. Our company is home to a special patio building team that offers its fellow Northern Virginians the very best in breathtaking patio designs, custom walkways and more. Our team is led by Mark Shriner, one of the most respected general contractors in all of Virginia. He and the experienced landscape designers on his team have done more than their share of custom work. From covered patios to walkways, each of their designs is a unique and beautiful entity unto itself. If you have a vision for your outdoor space, we can help bring it to life. We will work closely with you at every point in your project so that your ideas serve as a centerpiece for what will become the finished product. Let's speak about the specifics of your potential project, and together we can take the first steps in making that project a reality. Call Distinctive Deck Designs today.
We love the work we do at Distinctive Deck Designs, and it shows. Our company is where experience and creativity come together in a perfect blend, and our commitment is to create aesthetically perfect additions to the outdoor spaces of our friends and neighbors.
We have created countless beautiful patio designs for your fellow Northern Virginians
Owner Mark Shriner has over 20 years experience in our industry
We offer stone walkways, stone pavers, retaining walls and more
We use only the finest materials from manufacturers including Techo Bloc and EP Henry
Seize the moment and upgrade with outdoor enhancements that makes the most of your outdoor aesthetic. We can make your outdoor space a wonderful place to relax and spend time with family and friends. Beautiful patios and custom walkways in Fairfax can truly add a great deal of class and distinction to your landscape. Mark Shriner and the team at Distinctive Designs are ready to partner with you, so call today!
Call Distinctive Designs at 703.263.9634 to schedule your free consultation. Nobody does it better than our ultra-experienced and highly motivated team of general contractors and landscape designers!
Share On...