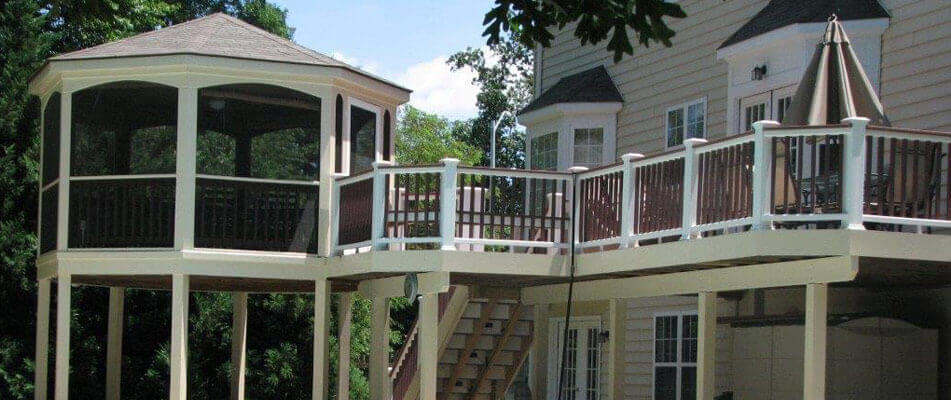 Cabana and Gazebo Design in Northern Virginia
Look to our skilled contractors for unique and beautiful cabana and gazebo designs.
If you're looking for Northern Virginia's finest gazebo design and cabana design professionals, you can find them at Distinctive Deck Designs. Led by Virginia native Mark Shriner, our experienced and talented landscape design experts create some of the most beautiful outdoor covered living areas in all of the state of Virginia. We are one of the most respected names in the local industry when it comes to patio design and deck construction, and it is our goal to make your outdoor living space more functional and enjoyable for you.
We know there are many general contractors in the Fairfax area to choose from. Few if any of them, however, are as creative or affordable when it comes to gazebo building, cabana building, or designing any of the other options for covered living areas we offer. We know that you want to make the most of your outdoor space, and we want to help you to achieve that goal. Our team is ready to get to work on your behalf, so call Distinctive Deck Designs today.
Mark Shriner brings more than two decades of experience to each job he undertakes and oversees. He and his team know that each client has a vision for their outdoor space. Mark's goal is to bring that vision to life.
We offer a number of options for outdoor covered living areas including deck construction, gazebo designs, cabana designs, patio designs, screened porches, sunrooms, front porches and pool houses
We use only the finest materials and the most innovative techniques for our builds
We will work to create a design that meets your vision and fits your budget
Free consultations available
You should expect a lot from your general contractor, because you are entrusting a very important part of your home, not to mention a great deal of your money, to the one you choose. With just the right touches your Northern Virginia outdoor space can come alive. At Distinctive Deck Designs, we have seen this scenario play itself out time and again. The outdoor living areas and landscape designs our general contractors create bring a beautiful aesthetic upgrade that allows our clients to maximize the time they spend outdoors.
Call today to schedule your free consultation with Distinctive Deck Designs. Our phone number is 703.263.9634. You may also contact us online at www.virginiadeckdesigns.com. Let's begin the fun and exciting process of maximizing the beauty and functionality of your outdoor space.
Share On...