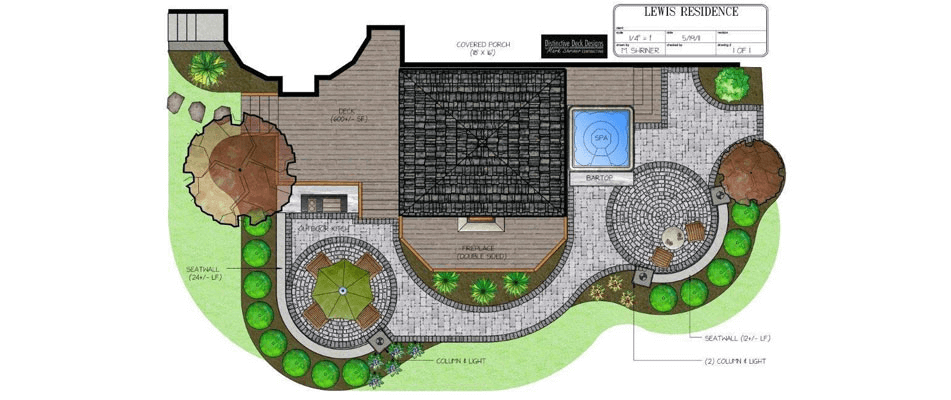 Landscaping Design in Fairfax, VA
Let us accentuate your landscaping design by putting our general contractors to work on your outdoor space in Northern Virginia. A skilled landscape designer will serve you well on a number of levels. From deck construction and patio construction to outdoor lighting and hardscaping options, Distinctive Deck Designs does it all. Our lead contractor will work closely with you to turn your property into a showcase and will give you the option to use different mediums and focal points, including composite decking and stone pavers for outdoor fireplaces and walkways.
Contractor Mark Shriner and the carpentry and patio crews at Distinctive Deck Designs are all Northern Virginia natives who understand the tastes and lifestyles of local homeowners and our region's aesthetic standards. Your yard's landscaping design can be beautifully tied together with great-looking accents.
Our Fairfax landscape designers know that the built elements of a home should harmonize with the natural elements of grass, trees, plants, and flowers around it. Distinctive Deck Designs understands this, too, and we create structures and hardscaping designs using choice colors and materials that integrate with your lawn and garden, as well as with your house. As our portfolio of work shows, we can select and place just the right touches, such as:
Patios
Walkways
Stone pavers
Outdoor lighting
Outdoor Fireplaces
Borders
Distinctive Deck Designs' Mark Shriner has more than 20 years' experience as a general contractor and outdoor designer in Northern Virginia. He understands how to make the elements of landscaping design work with hardscaping, stone accents, and all the latest composite decking materials. Distinctive Deck Designs offers free consultations and conceptual layouts, so you'll be able to visualize how the final design of your home will look. That's just part of our focus on great customer service. Just call Distinctive Deck Designs at 703.263.9634 so we can get started on the transformation of your property into the talk of the neighborhood!
Share On...