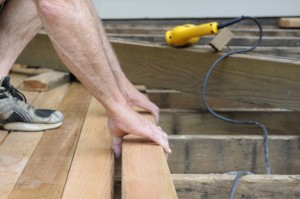 Your deck isn't just wood and nails, it's the place that you and your family will make memories for years to come. Many life experiences happen while enjoying the outdoors on your deck, which is why it is so important to keep it clean and maintained so that you can use it for years to come. Here are some tips to use when maintaining your deck to keep it pristine so that you are able to use it for years to come!
Clean Your Deck Regularly
Many people think that nature is enough to keep their deck clean, however just relying on the wind and rain is not enough of a wash to protect your deck. Power washing your deck once a season will help to keep the color of your stain healthy, as well as wash away excess dirt and stones that can scratch your deck or hold moisture that can damage the wood.
Replace Damaged Wood
It is inevitable over time that some of the wood on your deck will go bad, whether due to rotting or simple wear and tear. Make sure to check your deck every time you wash it, looking for loose or weak boards. Keeping fresh and even boards on your deck will not only improve its look, but will also keep everyone safe!
Stain Your Deck
Staining your deck is one of the most important parts of maintaining your deck over time. Staining not only gives your deck an attractive hue, but protects the wood from moisture, insects, and weather. Make sure to re-stain your deck at least once a year to maintain its quality.
We hope these tips help you maintain your new deck so that it can facilitate all your needs for the life of your home. Are you looking to add a deck to your home? Call us at (703) 263-9634 today for a free consultation. Distinctive Deck Designs is a dynamic team of distinguished and proven professionals with over 20 years' experience in home building and the construction of outdoor living areas. We will help design the perfect deck for your needs!