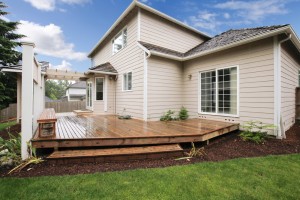 There are various projects you can do to improve the value of your home. While some projects are cheaper than others, having an outside addition to your home can increase the value greatly. Depending on the trending housing market, an outside addition has a remarkably high return for your expense. These returns can range from $2,000 to $20,000+ depending on the type of addition you choose to do. Distinctive Deck Designs offers several services that could benefit you and your home today.
A patio is a very affordable way to increase the value of your home by adding extra living space. Interior remodeling can be expensive, especially when you're trying to add another room. That can cost you quite a bit when you're considering insulation, wiring and roofing. A right-sized patio offers you, your family, friends, neighbors or additional home buyers a potential place to host events, barbecue or simply have a place to sit and enjoy a cool breeze.
In addition to a patio, many people have been following the growing trend of an outside kitchen. There is no set design for this project, so you don't need acres of land to have one placed in your backyard. Depending on your budget, you could have:  running water for a sink, a built in grill, a refrigerator, and even a fireplace. And you can even run electrical wiring out to your patio for lighting or entertainment. Adding an additional bedroom can increase your home's value, but having another kitchen and living room is a whole other story.
A deck, much like the patio, provides an additional living space for your home. Depending on the housing market, a deck has roughly a 70% to 90% return investment, even more so if your deck is made out of composite rather than wood. A deck gives you more options to use your imagination than a patio since you could have a muti-tiered design, also having the options of covering one or multiple levels.
Having your yards landscaped is also another great way to improve your home while getting a significant return on the expense. This is especially true when it comes to the front yard. A professionally landscaped front yard, while easy to maintain, enhances the property's "sales appeal." Depending on the neighborhood, you want to be careful. If you put too much into your yard and give it the appearance that it shouldn't belong in the surrounding neighborhood, you could actually lose out on that return value.
A gazebo is a great place for privacy in your backyard and a really great investment. There are many gazebo kits out there that make it fairly cheap and easy to install a gazebo. However, what most people don't know is if the gazebo is too big or just doesn't suit the house, you could be looking at little to no return. A poorly placed gazebo can take up valuable yard space so it's important to have a plan when installing these.
If you're looking to increase the value of your home or just want to improve it, call Distinctive Deck Designs at (703) 263-9634 today for a free consultation. Our in home carpenters and patio masons are proud to offer outdoor remodeling services for the Virginia area at very competitive prices. Check out our website www.virginiadeckdesigns.com to learn more!