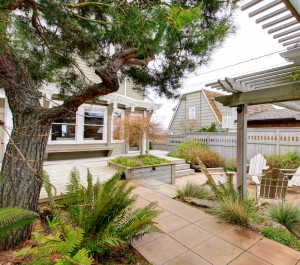 There are many different things you could do to spruce up a small backyard. Adding planters can create privacy with low-maintenance, a simple color palette can create a theme in which feels more organized, and the right ambiance from a small table top fountain or fire bowl can make a small sitting area feel cozier. These, and many other, suggestions can make a small seating in your backyard feel like a great living space, but why stop there? Having a small deck or patio installed could be just what your backyard needs to create that living space into the perfect addition to your home.
Creating a change in elevation to your backyard is a great way to create visual separation between spaces, making a tight space feel more open. Adding stairs also provides additional outdoor seating. While using materials such as Trex , you wouldn't have to worry about rotting or splintering so there is less maintenance as well.
Covered decks and patios are great to have, but in a small space, it can be confining. Having an open awning can provide shade while still keeping a sense of spaciousness. Often times railings can make a deck or patio seem cramped, so built-in benches creates seating and added safety so you don't have to worry about it sliding off. A built-in bench also makes for a good place to store any tools or materials needed for maintenance in the backyard.
Lighting is essential in any outdoor living space. When the sun isn't shining through the opening awning, it's important to have the right kind of fixtures to light up your living space at night. Low-voltage light fixtures provide a soft, indirect glow that creates the perfect atmosphere. Simple lights such as candles or torches are also great ways to give your backyard living area light without taking up too much space.
Wraparound decks are also possible in a smaller-sized backyard. Not only will you have a grander outdoor living area, but it adds depth to your house without changing the house itself. Distinctive Deck Designs offers Virginia remodeling services for decks, patios, landscaping and more. Call today at (703) 263-9634 for a free consultation! Our professionals with over 20 years of experience in constructing outdoor living areas will help you create the perfect deck for your small backyard.