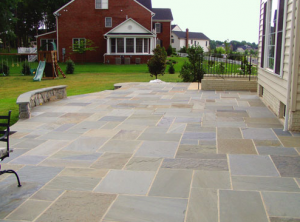 Any major addition to your home requires certain considerations before you get started and, if done properly, can greatly increase the overall value of your household and its accompanying property areas. If you are interested in having a patio installed, a reputable company such as Distinctive Deck Designs will be aware of any building codes, zoning laws or any other setbacks you could be unaware of. Before contacting us about your customized patio ideas, it is essential to consider the following:
Purpose: Why do you want a patio in your backyard? Do you plan on throwing parties outside, a family space for barbeques, an outdoor kitchen, or just a small private outdoor space to relax? Figuring out what you intend to use your backyard patio for is essential before considering anything else.
Space: Typically, there should be 60 square feet of patio per person. However, a small yard does not mean that you are limited to choices. Even the smallest yards can become the perfect getaway. By implementing retaining walls for seating, you can cut back on the need for extra patio furniture. Deciding whether you have room for a certain shape of patio, such as round, rectangular, oval, or having it wrap around your house can also add a unique element to your landscape. But would the patio serve its purpose better directly connected to the
house or instead offset in the yard? This can depend on prior landscaping. Certain plants or bushes may need to be dug up or relocated in order to install your patio properly.
Materials: Take into consideration what colors or types of stone you want to use. You may be in love with a certain stone for its color, but it may clash with your home, which can take away from its overall appeal. Depending on what kind of patio material you use can also affect the total cost of the project. Techo Bloc and EP Henry offer many different styles and patterns of pavers for customers to choose from at a reasonable price. Flagstone and Travertine products, at a 20 percent premium to other pavers, are great options and are "wet set" on concrete. Stone and paver products provides customers a lower cost option for their backyard living space.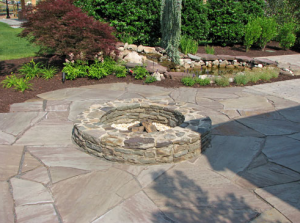 Accessories: There are many things you can include in your patio, such as lighting built into retaining walls, water features or fire pits. Patio lighting provides safety and lighting that will allow you to enjoy your patio all night long. Water features add a subtle ambiance to your outdoor getaway, while simultaneously helping to block out the noise from the street. Fire pits will give your friends, family and guests a place to gather around on those chilly winter nights.
If you are interested in installing your very own patio, Distinctive Deck Designs can help. With more than 20 years of experience in the industry, we will work with you to help create the patio you have always dreamed of. Please contact us today!