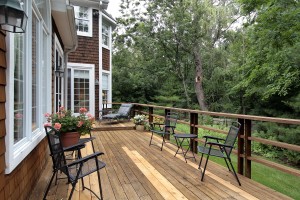 With Christmas just around the corner, your outdoor activities are probably the last thing on your mind; but now is the perfect time to start planning your springtime projects. And there are few projects as enjoyable and rewarding as expanding your outdoor living space with a beautiful new deck.
When planning your new deck you're going to want the finished product to be something you can be proud of and will stand the test of time. Over the next two posts we'll discuss the many factors that you'll need to take into consideration such as: your lifestyle, design issues, and what are the best materials for you to use.
Let's start with the easiest question to answer:
What's your deck going to be for? This is going to help you determine how much space is necessary. Is it going to be for a spot for entertaining, a tranquil retreat from the hectic pace of your day-to-day world, or both? If the primary purpose of your new deck is a space for relaxing, you're going to need to be sure you have enough space for lounge chairs and a table or two in a comfortably sunny area.  Maybe you intend to use your deck for family meals. If this is the case, you'll need to have space for a table where everyone fits comfortably. We suggest a minimum of four feet between the table and the perimeter. This will leave enough space for passing easily around the table.
Maybe you plan to host cocktail parties. Room for food prep and a serving area is a must. The first rule of every party is to make your guests comfortable, and if you've ever been crammed onto an undersized deck for an outdoor gathering you know that the word comfortable does not apply.  Some ideas for space saving on your deck would be including perimeter seating and extra wide handrails for placing beverages, reducing table space.
Place stakes in the ground where you would like the edges of your deck to be and outline the areas with string. Now place your chairs, tables, grill, and planters inside the area. Do you have enough space? Can you move around easily? This is the time to layout your new deck's function, flow, and view.
Be careful not to overload your deck. Maybe you're planning on adding a hot tub or some extra decorative planters. Most decks are built to support a maximum of sixty pounds per foot. This includes the weight of the deck itself as well as people. Adding additional weight will require you to strengthen your deck's supporting structure to ensure you have a safe living area.
In the next post, we'll discuss design, patterns, and materials.