Late winter is often the time of year new homeowners in Virginia start thinking about building up their outdoor space so it's ready for a summer of grilling, entertaining, and relaxing in the fresh air and sunshine. A custom built deck in Virginia is often the starting point to creating such an outdoor retreat.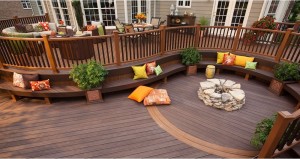 With so many options in decking material these days, it can be rather overwhelming to choose. Trex composite decking offers easy maintenance throughout the year, as well as resisting insect infestation or the all too common pain of a splinter.
In addition to eliminating these common issues with traditional wood decking, composite decking comes in such a wide variety of styles and colors it is easy to match the look and feel of your homes' exterior.
Homes with painted or vinyl siding offer an easy choice: either match the color of the home, or go with a contrasting color to make your deck pop. Trex composite decking even offers the ability of a two-toned deck for a more elegant, striking contrast.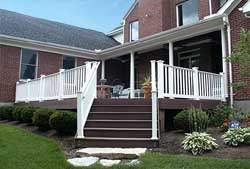 With brick homes, finding a color that compliments your brick that can tie the fence, deck and house together can be tricky. Brick is anything but monochromatic! You can choose to highlight a specific color in the brick to make that color pop, or you can choose to match the brick's mortar for a more subdued look.
When choosing a color for you deck, don't forget about the other colors used on your house; the trim around windows, colors used on downspouts, and even the roof color! Ideally you want all of these colors to complement each other.