My wife loves flowers.  She may be a little out of control with the April showers bring May flowers thing.  But, in her defense her birthday is in May.  So I guess some flexibility should be put forth on my part when she decides to decorate the entire house in flowers for May.  I mean it, inside and out.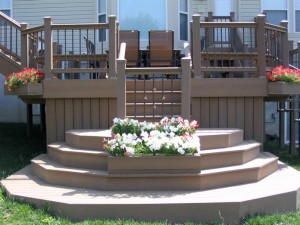 She is even more excited because we just put a new Trex Deck on the back of our home giving her yet another thing to decorate on our home.  But you know what they say – happy wife, happy life.  I am just making jokes, it really does make me happy to see her do something she loves to do.
I should give thanks to our Trex Deck Pro that installed our deck.  He suggested to her to design some flower pots into the rails and deck so it would be easy for her to plant and maintain. It didn't even really change the budget we had either, which was a huge plus.  She has even stated to me that she is going to do seasonal plants and flowers all year long.
Ok, I will admit she worked really hard for a long time, and now that the flowers are blooming the deck looks amazing.  Plus the Trex Deck can handle any water seepage or potting soil spills no problem, so maintenance will never be an issue.  So, thank you Trex Decks for making my wife happy and giving me an easy going spring.