Ah, Memorial Day: The official kick-off of the pool season, and often, the outdoor BBQ season. Memorial Day celebrations bring to mind family and friends gathered outside on a home deck or patio grilling and enjoying the sunshine. You need to make sure you are in on that vision!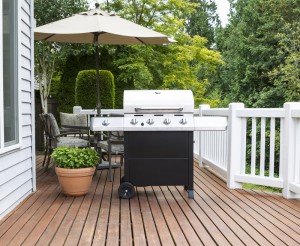 If the perfect Memorial Day party is what you envision for your outdoor space, consider making your grill the center focal point of your deck design. You'll also want to make sure you have plenty of seating. Perhaps some seating built right into your deck is the way to go.
Distinctive Deck designs can do all of that for you, and more! We know the Virginia deck building codes, and you won't have to worry about safety with a larger group of people out on your deck. If you decide to go with Trex composite decking, you will have even less things to worry about. Easy maintenance means your deck will need little prepping to get ready for the summer deck/bbq season. You also won't have to worry about barefoot children playing on the deck and getting splinters – with composite decking, splinters are a thing of the past! What about insect infestation ruining your summer party? Not on a composite deck!
Even if you chose to go the way of a traditional wood deck, your Memorial Day celebration in Virginia will surely be one to remember with a custom-built deck from the team here at Distinctive Deck Designs.