Changes in weather are near, and it will soon be time to stir the embers of your fireplaces and fire pits. Oh – you don't have one? Well, many do not realize that Mark Shriner Contracting, familiarly known as Distinctive Deck Designs, provides complete outdoor landscape design, including custom fireplaces and fire pits for Northern Virginia homes.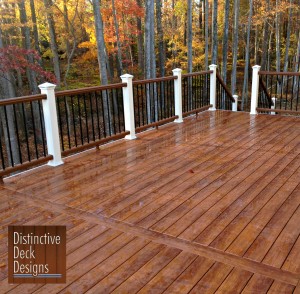 We absolutely love fall because of the beauty in the changing colors that our natural vegetation brings to our neighborhoods. As fall settles into your area, you may wonder how you can comfortably enjoy the cooler evenings with your friends and family. Ask us to build you an exclusive outdoor space while incorporating fire elements! You have the choice of having fire through the natural elements of wood and flame, or you can opt for the ease of using automatic gas or electric switches. Our contractors are very experienced in ensuring the new space complements your current home's design to create a seamless look. This is important because it will appear to new visitors that it was original to home rather than new construction!
Here are some ideas for what you can do to improve your outdoor space for entertaining events!
Love bonfires? Investing in a fire pit will provide you the comfort of having friends over for evening conversations with hot beverages and the occasional roasted marshmallow. Consider asking for built-in seating surrounding the fire pit area, which you can update for each season with new cushions for comfort!
Create an instant conversation piece by using reclaimed wood or a metal sculpture for your fireplace mantle. By highlighting a designer piece, you will further impress your guests and will have a unique feature your neighbors will not.
Add to your outdoor fireplace design with a deluxe outdoor kitchen. Add a luxury grill for the ultimate entertaining experience!
Consider incorporating solar or electric lighting into this space for those darker evenings. This will eliminate the hassle of trying to start a fire in the dark. Stylish sconces can also incorporate interior design to the stone.
We hope this list served as inspiration for you in redesigning your front or back yard. Did you find a great design on Houzz or Pinterest? We would love to hear from you, and we will discuss how we can implement these ideas for you!
Distinctive Deck Designs services three Northern Virginia counties: Fairfax County, Loudoun County and Prince William County. Our landscaping work transforms drab backyards into Houzz-worthy photos! In our 20 years of providing the Fairfax county community, our composite decking projects, as well as those of brick and mortar, have won multiple awards. Get your free consultation with us by calling 1.703.263.9634 today!