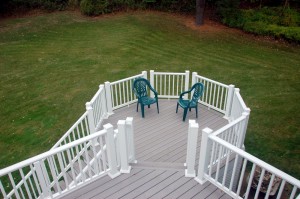 Composite or wood? The debate has gone on for years about which decking material is better for the task. And while the debate seemed to be neck and neck, over the past several years composite decking as taken the lead. With the modern advances in composite decking, especially in Trex, a deck can have the same great look and feel as a regular wooden deck and be better resistant to the elements. Composite material for decking is the best choice available, especially when you have to worry about warping, rot, splitting, termites and mold in a standard wooden deck.
Many people are concerned about the natural fading that occurs in composite decking material. With the early generations of Trex, this material will achieve its natural weathered color after 12 to 16 weeks. The newer generations of Trex has a protective shell technology that provides a superior fade and stain resistance that will help protect the wood from sun damage and other various weather conditions while keeping the same wood grain appeal of a natural wood deck.
Another argument is the variety of color. With natural treated wood, one would have to choose a different kind of wood, with a wide range of costs to get the desired color, along with different stains that are harmful to the environment. Composite decking materials have dozens of choices available that can complement a house perfectly, along with accented posts and railings.
Choosing composite decking can also be better for the environment. Trex decking is made with 95 percent recycled wood and plastics. By using reclaimed wood and recycled plastics, a tree never has to be cut down to make a deck. Trex is also one of the largest plastic bag recyclers in the U.S. and reuses any factory run off in the manufacturing line.
Cost can be a major factor in whether or not someone selects composite materials. While wood can be cheaper, depending on the type, in the initial investment of the deck, composite decking materials can save money for the buyer in the long run, with a higher quality product that requires far less maintenance. Particularly, Trex also offers a 25-year Limited Residential Warranty and a 25-year Limited Residential Fade and Stain Warranty for their higher quality decking materials.
At Distinctive Deck Designs, we specialize in using Trex composite decking materials. With more than 20 years experience in constructing decks and patios, we know our products inside and out and will help you create the perfect outdoor living area for your home. Contact us today for a free consultation.