You want to get the most out of your backyard space, so you made the wise choice and had a deck built on your home in Virginia. Having a deck adds value to your home, and expands your living space into the outdoors. You already know that with Trex composite decking material, your deck in Virginia will be low-maintenance, giving you more time throughout the year to enjoy your deck.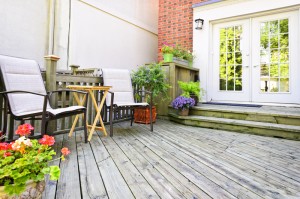 You've got your outdoor fire pit or heater installed on your deck so you are able to enjoy it throughout the colder winter months, but as the prime deck enjoying season is right around the corner, make sure you get the most out of your outdoor entertaining this season! The month of May gives us Cinco de Mayo and Memorial Day. Two great reasons to have people over to enjoy your deck. Memorial Day is perfect for the great American pastime of outdoor grilling. Try something different for Cinco de Mayo, with a build-it-yourself taco bar or a margarita fountain.
June is the perfect time for pool parties. But, you can also celebrate the official start to summer with the summer solstice, which falls around June 21st/22nd. There are plenty of Midsummer traditions to follow, so invite a few friends over to enjoy your deck in Virginia with a midsummer themed gathering. July's the month to celebrate America, so kick it off right with a Fourth of July party on your deck. Have some peace of mind knowing your composite deck is safe from the fireworks and sparklers that can cause damage to traditional wood decks.
There are plenty of things to look forward to celebrating in the coming months, so start planning now and get the most out of your outdoor deck space in Virginia!