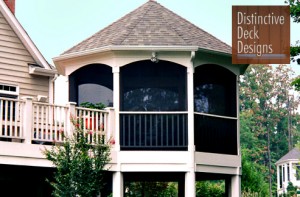 Summer's wrapping up in Fairfax, and it's time for you to clean your covered screened-in porch before the holiday season is upon us. Over the past three or four months, your porch has probably accumulated dust, pollen and many other irritants. Cleaning the screens alone will not suffice. Only a deep cleaning can remove allergens and other irritants from the space. Here are a few simple steps to getting the deepest clean possible for your screened-in porch.
Here are the materials needed to properly clean your porch:
Hose
Hose sprayer
Area to drape your rug after cleaning
An outdoor/garage vacuum cleaner equipped with a HEPA filter
Dusting materials
Old towels for drying outdoor surfaces
Broom or leaf blower
Washing machine or washing sink (for outdoor curtains, blankets and pillow/seat covers)
Nose/mouth mask if you have extreme allergies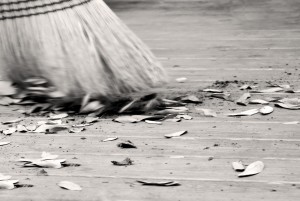 Step 1: Move all furniture out of the screen porch area, but leave them outdoors. There's no need to track the allergy irritants into the home and cause a bigger nuisance. Once the covered porch area is vacant, proceed to dust light fixtures, ceiling fans and any other shelving or anchored items where dust accumulates. Some homeowners speed up this process by using a leaf blower, but it's not recommended for those with extreme dust or pollen allergies.
Step 2: Use a designated outdoor vacuum cleaner to vacuum all rugs. You do not want to cross-contaminate outdoor pollen with your indoor vacuum cleaner, potentially transferring dust and dirt from the porch into your carpets. DIY blogger, Karen Cooper, recommends using a Shop Vac with a HEPA filter for outdoor and garage cleaning. Drape all vacuumed rugs over a fence, railing or tree branch outside of the screened-in porch area.
Step 3: Set up your hose sprayer to a spray or jet setting. Do not use a pressure washer if you have composite decking. Pressure washers can ruin the finish of this particular floor material and void any residential warranty you have with these products.  Start spraying the top of your screen from left to right and top to bottom. This moves all dirt downward and out of the covered deck area.
For any stuck on residue, you can use all-purpose cleaner that does not contain ammonia or bleach with a utility brush to help get in between any grooves. Rinse clean with the hose.
If you have any pooled water with dust particles and pollen, simply use a broom to move it out of the covered deck or porch space outdoors. You can also clean up any pooled water with your old towels to speed up the drying process.
Step 4: Go ahead and start beating your rug with a broom to get any excess dust off that the vacuum missed. Once the dust stops flying off the rug(s), lay it on a flat clean surface in the outdoor space to vacuum it once more to make sure all large dust particles get tracked through the HEPA filter before you place it back into the covered porch space.
Step 5. Now that the screens and porch are dry, go ahead and start moving the rugs and all hard furniture back into the space. If you have any seat cushions, pillow covers, blankets, or any other soft materials that can be washed in the washing machine or by hand, remove those and get them to the appropriate cleaning area.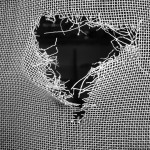 Do not machine dry these as they may shrink. Instead air dry them to protect the fabric's integrity. Once they are clean and dry, go ahead and put them back in their designated areas.
While cleaning your covered deck space and screens, you may notice damaged flooring or worn and torn screens. If you notice any damage or heavy wear and tear, consult with an experienced deck contractor in your area to repair and protect your outdoor living space.
Distinctive Deck Designs of Northern Virginia create and repair screened in porch designs. We use high-quality composite decking products for the frame and the flooring that comes with a significant limited lifetime warranty. Whether you are enclosing a covered deck, a gazebo or a porch, we work with all homes and all budgets. Schedule your free on-site consultation with us today!