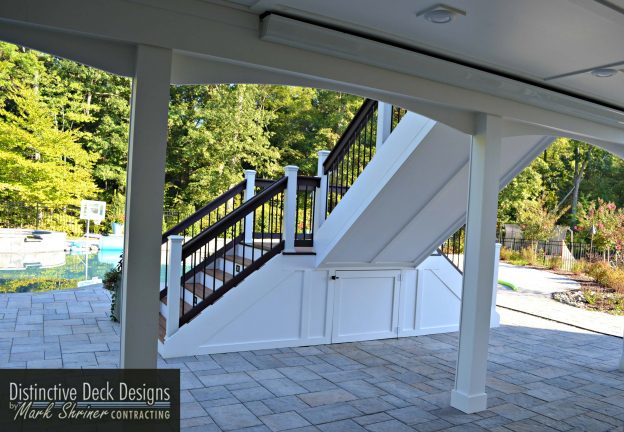 Many homes in Northern Virginia have beautifully raised decks that are perfect for entertaining outside. However, the spaces underneath these decks don't need to go unused. Take advantage of the space with a complete unique under deck design. Under decks are often made for simple drainage purposes, but they can be converted into great outdoor spaces or under deck rooms.
Looking up underneath a deck, you can often see exposed joints. These exposed joints are specifically made to allow moisture from rain, snow, ice, and condensation to drip down so that there will not be any water buildup on the deck itself. Unfortunately, this means that the space underneath the deck will not stay dry.
But, there is a solution for the issue of unattractive exposed joints and deck drainage. The process is detailed and includes an under deck drainage system, porch and deck flashing, electrical hookups, and weatherproofing.
Having an under deck room or space is possible. We've come up with 7 ways to convert your under deck into an extra outdoor living space.
Under deck ceiling panels – The whole point of these under deck ceiling panels is to channel the water from rain or melted snow/ice away from your home and under deck living space. They keep your new outdoor living space dry and comfortable.
Under deck lighting – By adding under deck lighting, you can spend time in your under deck area after the sun goes down. You can even consider using solar technology to be more energy efficient.
Outdoor curtains – Outdoor curtains provide some privacy and elegance to you under deck living space. They also make your outdoor living space homier. Weather-proof curtains are not hard to find and will help protect the under deck area from moisture.
Accessible storage – Forget stuffing all your extra belongings in a garage. Convert your underdeck into the perfect place for accessible storage by simply putting your things under the deck. The extra space will keep your stuff dry and safe.
Gas fireplace or fire pit – Depending on the exact location and your ceiling clearance, a gas fireplace or covered fire pit could be an added accessory to your under deck. Entertain in the comfort of your under deck during any season.
Enclosed playroom – If you need some extra space for your children to play outside, consider converting your under deck into an enclosed playroom. These under deck rooms will keep your kids occupied for hours of fun.
Enclosed sunroom – An enclosed sunroom is a room enclosed with glass so you can enjoy the outdoors from the comfort of your home. They aren't heated or cooled, but you can entertain in them for most months out of the year.
With so many designs for your under deck, don't let that extra space go unused. If you are considering transforming your under deck space, contact us and we can help you figure out what will work best for your home.