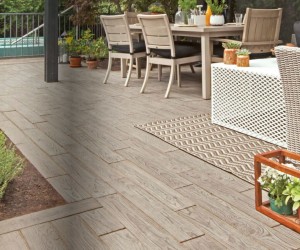 We are excited for spring and summer construction of some luxurious decks and patios! Today, there are many options available for custom looks that all your neighbors will envy. Here in Northern Virginia, there are both custom and classic looks to outdoor living spaces that are picturesque and worthy of any home and garden magazine or online photo gallery.
Here are some trends that you may want to consider for your own backyard upgrades!
Crazy About Pavers
Pavers have come a long way from the cobblestone or interlocking brick styles. Today you can find all types of striations, color variations and material texture. Techo-Bloc distributes products for us to use in hardscape construction. Last month, we talked about Techo-Bloc's new products and trends. Some of the most impressive new items on the market are the outdoor hardwood flooring options as well as the stark contrast of black and white in their new Tux products.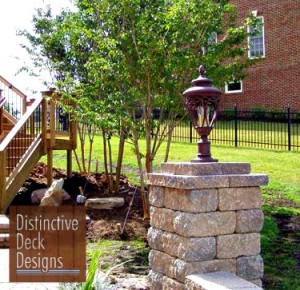 Setting Contrasts with Patio Materials
Many homeowners are using material contrasts to bring a level of drama and sophistication to their outdoor living spaces. For example, many are choosing the eco-friendly option of composite decking materials for their decks and contrast it with their dark colored paver slabs for their patios. Tip: Add extra drama with intricate placement of outdoor lighting for evening entertaining.
Stacking on the Stone
While this is a not a new trend, stacked stone can look effortless and high-quality when done correctly by a licensed patio contractor. This material is very unique because not every slab is the same tone, so there are small imperfections in the color tones, quartz flecks and even how it is cut. Stacked stone also is a great look for outdoor kitchen spaces, fire pits and outdoor fireplaces! Tip: Keep the stacked stone in similar neutral tones if placing a granite countertop on the top surface.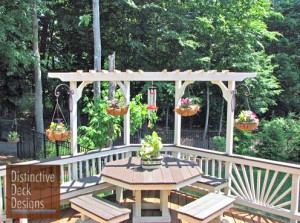 Decorating with Pergolas
Long-time friend of gardeners, pergolas have been growing in popularity for porch spaces as well as decks. You often see them in neutral colors such as white, light brown or beige, and they are frequently used as anchors for hanging potted plants. Depending on the architectural style of the pergola, some homeowners and commercial property managers outfit these with outdoor drapes for extra elegance and privacy. Tip: Consider installing a porch swing on your pergola for extra seating and relaxation.
Distinctive Deck Designs is home to Mark Shriner Contracting, an award-winning patio and deck contractor. We build luxury outdoor living spaces for homes and businesses throughout Northern Virginia including Fairfax County, Loudoun County and Prince William County. Check out our Houzz for more design inspiration, then schedule your FREE on-site consultation with us!