Let's talk about your home's value for a moment. What features does your house possess that would prove valuable to the next homeowner when it comes time to sell? At Distinctive Deck Designs, we have compiled a useful list of basic features that help add value to your property's resale price.
Square Footage
An expansive lot that boasts plenty of usable space will naturally add to a home's overall dollar value. Some properties have large yards that are suitable for ranching or other purposes, but it is equally as important for a smaller yard to be designed to maximize space. Renovated backyard patios and decks that have been neatly transformed into cool outdoor living spaces allow future homeowners to see the space's potential for the future.
Bathroom to Bedroom Ratio
There's nothing worse than a four-bedroom house with only one functioning bathroom. Master suites are heavily desired by buyers because they usually include en suite facilities. Of course, the bathroom doesn't have to be designed to resemble a deluxe day spa, even though that would obviously add even more towards the total price tag! An appropriate rule of thumb to consider is that, for every two bedrooms, a four-piece bathroom should be available.
Bathroom Function
Half-bathrooms are perfectly suitable for guests in dinner party situations, but three- or four-piece bathrooms are much better for overnight guests who require extra bathing space. This will mean less prep time in the mornings if more people can use different bathrooms concurrently!
Kitchen Layout
Contrary to popular belief, a kitchen does not have to have granite countertops, elaborate backsplashes and stainless steel appliances. Granted, these are extremely appealing features to future buyers, but you can also make a strong impression by having the ideal amount of cupboard and counter space to suit even the most active families.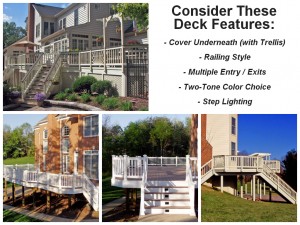 Custom Features
Many buyers prefer a home that has a distinct "character" that separates it from other cookie-cutter homes in the area. Consider visual enhancements through crown molding, wainscoting, tray ceilings or unique wood pieces, such as wood beams or a focus wall that uses repurposed wood. Another great opportunity to aesthetically improve your house for a future buyer is to install an outdoors deck. Make sure your deck contractor uses materials and color schemes that effortlessly compliment the home.
One of the most common questions we get asked on the job is "How will adding a deck to my home increase its value?" According to a popular remodeling website, after compiling national averages, they calculated that wooden decks in the South Atlantic regions could regain up to 87% of your deck's installation when it comes time to sell your home. Composite decks, on the other hand, regained less than 75% of the installation cost. However, across national averages, a professionally installed deck can contribute between $10,000 to $12,000 towards your home's resale value. That's some major cash!
The above features are only a small portion of the many checklist items that realtors and buyers both consider valuable when looking for a new home. If you would like to learn more, seek a licensed contractor in your area.
Distinctive Deck Designs by Mark Shriner has built many award-winning homes and decks for residents living in North Virginia over the past 20 years. We have expanded our business to include landscaping and other outdoor living features. Please fill out our contact form to learn more today!
Remodeling. "2014 Cost Vs Value Report. 2014." Retrieved August 8, 2014 from http://www.remodeling.hw.net/cost-vs-value/2014/south-atlantic/.