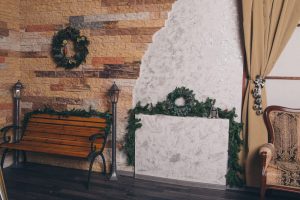 As the famous Charlie Brown song goes, "Christmastime is here. Happiness and cheer. Fun for all that children call. Their favorite time of year." It's not just children who are enjoying this holiday season, however. Adults all across Northern Virginia are preparing to host those near and dear to them for their holiday gatherings. Sometimes, it is seasonally warm enough for you to consider using your outdoor space as an overflow area for your holiday guests – with the right kind of accommodations, of course. Follow these tips from Distinctive Deck Designs to make your outdoor living spaces work well into the holiday season.
Hang a Garland on Your Outdoor Fireplace Mantel
Decorate your outdoor fireplace area the same as your indoor mantle. Add garland, lights, candles, and other Christmas décor to create a focal point for your outdoor space, which will, in turn, draw your guests outdoors. They will find that the outdoor fireplace or fire pit is the perfect place to unwind after dinner.
The right patio contractor will build your fire element for year-round use and include bonus areas for seasonal decorating. These could include built-ins, tiered shelving, mantle space, wood/fireplace equipment storage, and more.
String Clear Lights throughout Your Northern Virginia Patio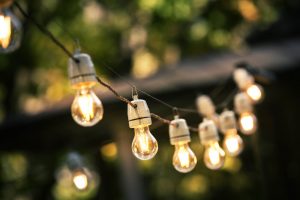 While you may already hang lights of all sizes on your patio space for year-round use, this is especially important during the holiday season. Holiday lights get everyone into the spirit of the season while brightening up your home and creating a beautiful focal point on your patio space. Patio holiday lights point your guests to an overflow area where they can continue conversation or find extra seating. Make your guests more comfortable by getting a few space heaters to keep them warm in case of chilly winds.
Make Your Three Season Room Work as a Buffet or Game Space
If weather permits, or with the use of space heaters, you can incorporate your three season room into your holiday gatherings. Consider setting up a table with a buffet-style arrangement of your food and drink. This keeps the food out of high-traffic areas and allows your guests to mingle in your living room and kitchen areas. You can also use your three season room as overflow seating space or an area to engage your guests in festive games everyone can enjoy!
The holidays are a joyous time and perfect for hosting gatherings. When the weather allows for it, there's no reason why you wouldn't want to show off your patio spaces! Also, who could pass up hot chocolate and roasting marshmallows in your outdoor fireplace?
If you feel that your patio or deck spaces aren't quite up to the task of entertaining guests this holiday season, be sure to call Distinctive Deck Designs. We can work with your budget to help you create a beautiful space worthy of all your gatherings throughout the year. Our award-winning designs are built to last and impress. Schedule an appointment today for your free on-site quote!