Outdoor living spaces are a favorite feature in many homes throughout Fairfax and Northern Virginia. While these deck and patio areas don't often see much use during the winter months, there is plenty of time throughout the rest of the year to enjoy them to their fullest. Here are some safety reminders to help you enjoy your space for many years to come.
Install and Use Baby Gates Where Applicable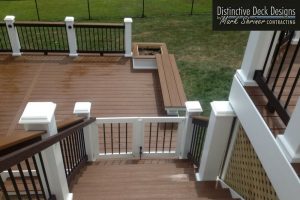 Baby gates are convenient for parents and pet owners alike, perfect for keeping pets and small children out of danger zones. Areas that commonly require supervision include stairs, pool spaces and rooms with dangerous elements, such as cutlery fireplaces and other hazards. Don't forget to install these gates on your deck stairs, or areas leading to any water or fire feature. An experienced deck contractor can install composite deck gates that match your deck design.
Use Outdoor Lighting to Show Changes in Surface Level
In Northern Virginia, some homes have flat yards while others are on a slope due to the terrain. No matter the surface, trip and fall accidents can happen. We recommend using outdoor lighting to illuminate the deck or patio and help prevent trip and falls. There are many options on the market today ranging from solar-powered lighting to LED lighting. Most often, these lights are installed with a timed programmable transformer with timer settings to meet your needs. There are a variety of ways for installation, so if you are in the market for some outdoor lighting, talk to a patio contractor for expert advice!
Supervise All Pets and Small Children When Using the Fire Pit or Fireplace
Fire can be beautiful and mesmerizing to look at, which is why so many people enjoy simply watching a fireplace. Your little ones and four-legged family members may not understand the safety dangers of getting too close to that mesmerizing fire element, however. Surfaces surrounding the fire can cause contact burns, and sparks or flames may occasionally fly outside of the contained space. We strongly suggest all fireplaces have a fires spark screen to avoid any concerns. Whenever you plan to use your outdoor fireplace or fire pit, always keep an eye on your family members and make sure nobody gets too close.
Turn Off Patio Heaters and Put Out Fires Before Going In for the Night
Another burn/fire risk is neglecting to use the proper burnout procedure for fire elements. If you have electric or gas heaters, fire pits or fireplaces, stay to make sure they shut down completely after you turn them off. Listen for any hissing and check for the scent of burning plastic or gas. You may want to disconnect electric or gas elements from their power source and double-check all valves before going into the house.
Natural fire requires a different kind of burnout. Use sand or dirt to douse the flames rather than water in order to reduce flare up and help coat the hot wood/coals. This reduces the risk of reigniting the flames. After you cover the wood or coals with dirt, you can use water as a secondary dousing method. If the flame is in a small, contained area like a fire pit, place a metal can on top of the smoldering wood or coal to cut off the oxygen supply. Don't worry about the ashes until the day after because they will still be very hot even after being doused.
Know When to Use Rock Salt and Shovels for Patios and Decks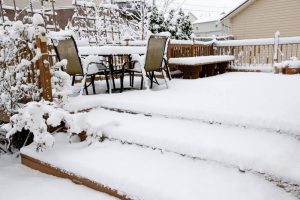 When snow is present on your deck, it makes for a slippery surface – especially after it melts and then re-freezes into ice. This creates a dangerous walking surface. Rock salt does contain potentially abrasive chemicals, so we do not recommend its use on decks made of either pressure treated or new composite products such as Trex®. Salts can be used on patio surfaces, and only Techo-bloc has a lifetime guarantee that the salt will not damage their quality paver stones.
Rinse surfaces often to avoid damaging the protective coating on rock slabs, pavers or concrete surfaces. Of course, when there is a large build-up of snow you can simply use a plastic shovel to remove it; however, be very careful not to mar or scuff the decking itself. Many times a good stiff bristle broom works the bests for snow removal.
Deck owners will need to be extra cautious during the snow season. Our deck builders do not advise using rock salt on composite decks because it can ruin the exterior coating and void your manufacturer's product warranty. If you must use it, rinse the area as soon as you possibly can. If you need to shovel the deck space, use a plastic shovel – not a metal one. Metal can ruin your composite deck surfaces.
Your outdoor living space is a valuable investment for your Fairfax-area home. Protect it and your loved ones from the injuries that most commonly occur in these spaces. If you have any questions about how to improve safety for your Northern Virginia deck or patio, talk to our licensed contractors. We can help point you toward products that can maintain the beauty of your space while still providing key safety features.