For many social butterflies, having guests over is an exciting time. You love the hustle and bustle of entertaining, preparing food in large quantities, and spending quality time with all your favorite people simultaneously. Many homes in the Northern Virginia area have large yards, but no sense of organization to the outdoor spaces. That is where Distinctive Deck Designs can help. We are master carpenters of decks, patios, underdeck spaces, and other outdoor living elements.
If you find yourself pinched for space or feel like you can't invite more than a handful of people over to your home, you might want to explore how to capitalize on your outdoor areas. Creating a great flow from the front door to the back of house can help your guests find a space that they are most comfortable in and prevent congestion within the home during gatherings. Here are four ways to accommodate large gatherings in outdoor spaces.
Move the Flow Outdoors
It can be very costly to rearrange or reconfigure the space within your home to allow for more seating areas indoors. Reworking back porch spaces can help you prevent bottle-necking in your kitchen, dining and living rooms. If you do not have a designated back porch, deck or patio space, your first step will to be to reach out to a Northern Virginia patio builder. There are many options that can fit every budget.
If there is no immediate budget allowance for outdoor living construction, invest in some high-quality outdoor furniture instead. Create an intimate seating area facing towards the home, so your guests can see into the home and feel connected with the indoor activities, too. We recommend Trex® outdoor living furniture products because they are made with green materials, can endure the Fairfax-weather year-round, and are easy to clean.
Build Functional Stone Walls
If you already have a patio, consider hiring a local patio builder to create retaining walls or stone benches to outline your outdoor living space. Both these options create instant seating areas. The benefit of going with an award-winning patio contractor is that you gain their distinctive, experienced input to help you match your existing area with complementary stone and other features.
Create an Outdoor Dining or Living Area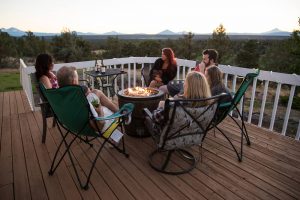 If you have a covered porch or covered deck space, you have limitless options to transform these shaded areas for extended entertaining. The simplest solution lies in an outdoor dining set or living room set. This way, you don't just designate a cozy seating area; you also get places to put down drinks/food during long-lasting conversations. It's important that you invest in furniture designed for outdoor use. Otherwise, the furniture won't last and you'll be stuck having to repair or replace it. For areas covered by a pergola, you can also hang an outdoor swing. This is a look that we've seen in many homes throughout Northern Virginia.
Prepare Your Outdoor Living Space for Furniture
If you have a composite decking surface, practice extra caution before unpacking outdoor furniture. Use plastic covers on the feet of all furniture to help protect the surface from scratches or deep grooves. Any scratches or dents on the composite decking can compromise the integrity of the product.
Thank you for reading these tips from our master carpenters. We are an A-rated deck and patio contractor for the Northern Virginia market and are proud to be a two-time Angie's List Super Service Award winner! We also won the Best of Houzz badge, an honor granted to only the top three percent of all contractors and professionals. If you're looking to expand or add on to your outdoor living space, there's only one contractor to call: Distinctive Deck Designs. Request your free on-site consultation online or by phone: 703-263-9634.