When driving through the neighborhood, it's always fun to look around to see what your neighbors are doing for their landscaping – especially when it comes to deck design. If you're gathering inspiration for having a deck built for your home, it's important that you pay close attention to the railing. This component is more than just a safety feature; the type of deck railing you choose can reflect your personality and style. Here is the ultimate deck railing design guide you've been looking for, put together by our Northern Virginia deck builders.
A Simple Guide to Deck Components
Before investing in a deck, it's important to have a general understanding of all the deck pieces. Your deck contractor will ask you many questions to help you establish your ideal finished look, and knowing the terminology can help you make educated decisions.
Post Cap – Decorative element that closes in the posts between railing sections, often features outdoor lighting when applicable.
Post – This is the thick, sturdy piece that is fixed to the railing sections, banister and the deck surface itself.
Footing – Decorative element that is placed over or around the post to hide any screws or connection to the deck surface.
Banister – The horizontal piece on the top most part of the railing sections between posts.
Baluster (spindles) – These are decorative pieces of PVC, aluminum, wrought iron, and other materials between railing posts.
Choosing Your Deck Surfacing Materials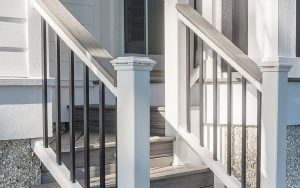 Decks come in all shapes, sizes and surfaces. The most common building materials are traditional and composite wood. At Distinctive Deck Designs in Northern Virginia, we only use Trex® composite decking for all our deck designs. This is because we respect the brand and its dedication to the decking industry. They are among the most sustainable and most respected names in the business, and we are honored to be a TrexPro® Platinum deck builder and installer.
One of the main reasons to go with Trex is their versatility. They have several lines of composite decking with complementing railings and outdoor furniture to complete the look. It makes deck design easy for both the customer and for the contractor.
Choose Your Railing Size and Spacing
When you work with any deck contractor to build your dream outdoor living space, you will be asked many questions regarding colors, surface type, post caps, outdoor lighting elements, and more. One of those questions also includes your railings. Here are some of the many options based on personal style:
Traditional (Classic) – White or brown banisters and standard square railings
Craftsman (Modern Traditional) – Contrasting colors between banisters and railings, and the railings may be a thicker wider slat style
Contemporary (Trendy Traditional) – Contrasting colors that may gravitate towards the grays and whites, prefers flat surface railing (no height differences, surfaces, prefers minimal railing gaps, or may even request even horizontal railings)
Minimalist (Trend-Setter)– Flat glass panels or thin cables to allow more natural light in
Deck balusters or spindles come in a variety of different mediums, including aluminum, wrought iron, composite wood, traditional wood, steel, steel cables, and glass panels. Each option has its own pros and cons, but it's important to choose one that works for you and your family's needs. The climate is another factor to take into consideration. If humidity, extreme heat or cold are common in your climate, you need to allow space for the wood to expand and contract, if applicable.
The spacing between posts and the railings can help you establish more privacy on your deck. Other optional features that can add shade and privacy control include trellises or arbors. Some Northern Virginia homeowners also elected to have an enclosed porch or sunroom on their deck.
If you are in the market to build a new deck or refinish your existing deck, choose Distinctive Deck Designs. We have more than 20 years' experience in building decks throughout Fairfax, Loudon and Prince William Counties. Our company was recently awarded Best of Houzz and the Angie's List Super Service badges, and we can't wait to be a part of your deck construction, too. Give us a call or send us your design ideas!