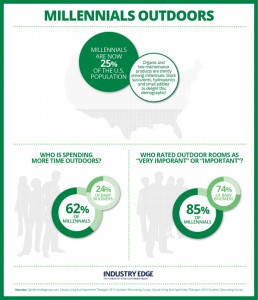 Distinctive Deck Designs is dedicated to providing you home and garden trends for your outdoor living spaces. That's why when we saw that Industry Edge put out some infographics based on the 2015 report released by Garden Media Group, a gardening marketing and PR agency that releases annual garden trend reports, we knew that we needed to share these with you. These infographics caught our eyes because they highlight information from that report.
If you wonder why we highly publicize patios and elaborate decks, it's not just because those are services we offer to you. It's because of the growing market that's interested in these spaces. In fact according to the aforementioned report's statistics, over 60% of millennials are spending more time outdoors, including in outdoor living spaces. While both baby boomers and millennials alike favor decks, patios and porches, millennials now occupy a quarter of the entire population.
Look at all the social media options now. Chances are someone somewhere has a collection of outdoor living pictures that you daydream about as you scroll through them.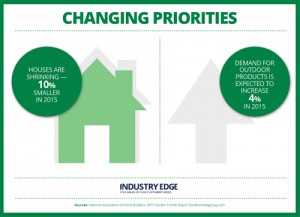 Many of them focus on the key areas of outdoor spaces, including, but not limited to, decks, fire pits, outdoor kitchens, stacked or inlaid stone features and patio furniture assortments.
It's simply not enough to have a concrete patio pad anymore. Elaborate design with personalization is the norm now. After all, your patio is an extension of your home and adds square footage to your home's value! As a TREX Pro Platinum Installer, we foresee a growing interest in built-in seating, functional storage spaces, outdoor lighting, decorative post caps, ornate balusters and portable heaters in multi-tier, curved or built-in pergola decks.
If you have been inspired by an outdoor living photo collection and want to apply certain features to your Northern Virginia home, then call Mark Shriner's team to make that dream a reality! We service many cities near the Fairfax, Virginia area. Call 703.263.9634 today!
Mark Shriner and his deck construction crew is now an Angie's List Super Service Award recipient. Our award-winning designs and dedication to excellence is truly a benefit to the Northern Virginia community. Browse our completed projects, then schedule your free on-site consultation today!