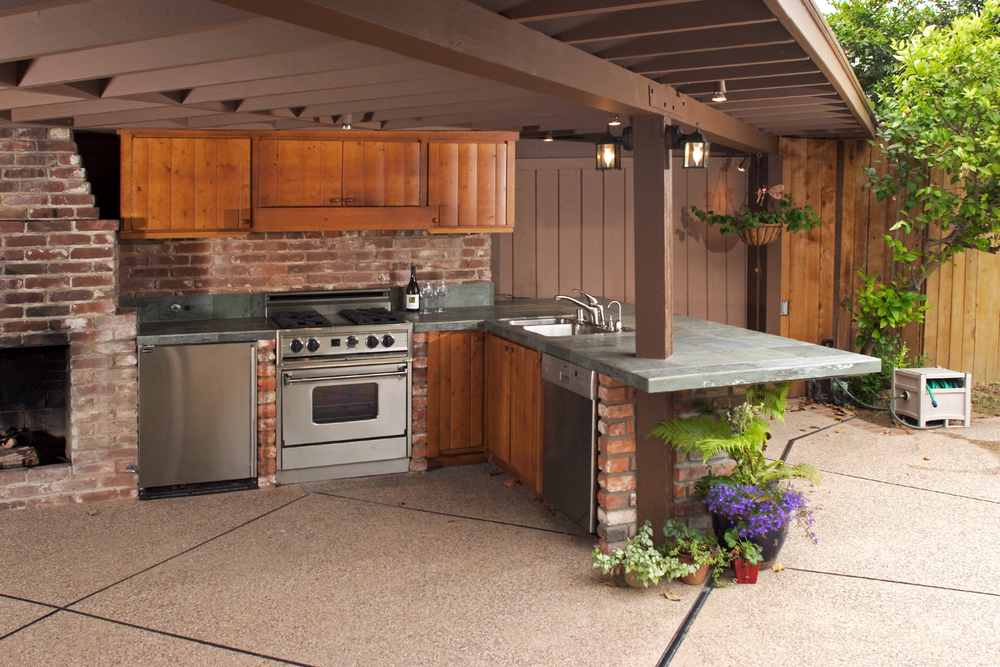 Outdoor spaces have been redefined as ultimate entertaining spaces. Gone are the days of rocking chairs and sweet tea on the porch. More people are including their outdoor spaces as extended entertaining venues of their home with gorgeous patios, seating areas, fire pits, and even kitchens!
If you want to install an outdoor kitchen for your Northern Virginia home, first decide if it's going to be a DIY effort or if you're going to involve a contractor. Whoever is doing the installation is required to acquire adequate building permits and having the city inspector involved. Here are some building code requirements to take into consideration:
Fire clearance: BBQ grills housed under a structure need to allow adequate clearance (25 feet height from the top of the grill surface), so flames do not have the potential to catch the overhang on fire. Outdoor grills should be at least 25 feet away from any potential combustible materials.
Gas lines: City inspectors will want to check for proper gas line access for the cooking equipment. There will need to be direct access to the original natural gas line within the home.
Water lines: Lines will need to be extended from the house. This could involve breaking through concrete outside and within the home to provide water line access.
Electric: If you plan on having an outdoor refrigerator, wine cooler or any lighting elements around the outdoor kitchen, you will need run electrical to the outdoor kitchen area too. It's recommended to allot for some outlets to operate other kitchen equipment, such as blenders, hand mixers and more.
Only hire patio builders with experience in outdoor kitchens, stone masonry, plumbing, and electrical. If they do not have experience with any of these fields or use subcontractors to assist them in projects, it will be costly for you to track trustworthy trade specialists to help them in your outdoor kitchen installation.
Because outdoor kitchens are a permanent fixture, shop wisely. Otherwise, it is very costly to revise. Consider kitchen elements like a farm sink, deluxe grill, garbage disposal, mini fridge, and wine cooler. More deluxe options include a rotisserie, outdoor oven, stove top, and even a microwave! Buyer's Tip: Ask your patio builder before purchasing any kitchen components because you will want to make sure the options selected are built for outdoor use.
As you select your pieces, consider layout functionality. Don't put key elements more than five feet away to help you be efficient and avoid spills. Also plan for ample counter space for food preparation, cooling and actual dining!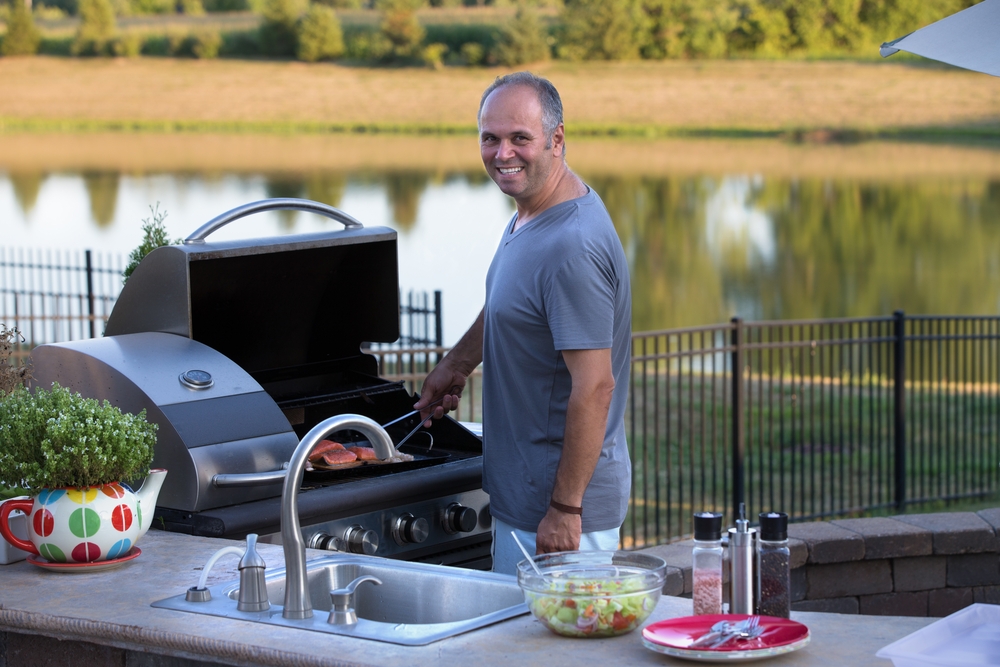 Your patio builder will have access to a variety of hardscape products and surfaces that you can use for the flooring, exterior look and surface tops. Don't choose a flooring product that will be slippery if water or oil gets spilled. Safety is quintessential in your outdoor kitchen. Also, you don't want a stone so soft it can crumble away and potentially damage your outdoor kitchen equipment. Buyer's Tip: Choose a resilient counter surface that will not absorb moisture.
The last tip to consider for your outdoor kitchen is to actually use it! Don't let all the hard work just sit there to be admired. Invite guests over and entertain them with your grilling!
Distinctive Deck Designs offers patio building services to Northern Virginia residents. We recognize the importance outdoor kitchens offer to outdoor entertaining and have broadened our services to include luxurious installations of outdoor grills and kitchen elements. Ask us about our fire pit, outdoor fireplace and composite deck services, too! Call 703.263.9634 to arrange your on-site consultation, and check out our Facebook for other great outdoor living tips!