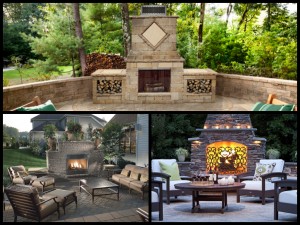 'Tis the season for bonfires, indoor/outdoor fireplaces and family gatherings around the backyard fire pit. Fire is a mesmerizing sight, delivering both heated comfort and a focal point for any outdoor entertainer. However, it can also be a source of danger for homes and patios. As a leading patio construction company in Fairfax and its surrounding cities, Distinctive Deck Designs wants you to be safe and have an enjoyable fire pit and outdoor fireplace season.
There are many precautions that homeowners need to take when installing an outdoor fireplace at their Fairfax-area home. The same rules and conditions also apply to any construction of Fairfax County outdoor fire pits. Take a look at these safety tips for proper outdoor fireplace and fire pit use:
Fire Pit and Fireplace Safety Clearance
Check if you can even have an open fire in your backyard. Even when you live in a detached suburban home in Northern Virginia, some city and county ordinances prohibit open fires.
If your neighborhood or HOA has no open fire bans, plan your outdoor fire pit or fireplace placement wisely. There must be at least a 10-feet radius and height clearance from trees, plants, fence, your house and your neighbor's house. Some ordinances even mandate that custom outdoor fire pits must be built one to two feet underground for adequate support.
Before outdoor fireplace or fire pit construction, check with your city and county building codes to see if you are required to obtain a permit for your outdoor heating plans. Some communities even require fire marshal site inspections.
Operation Safety Tips for Outdoor Fireplaces & Fire pits in Fairfax communities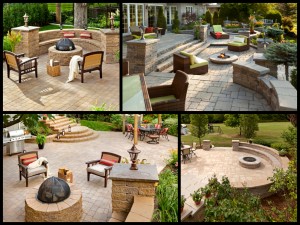 Supervision – The number one safety tip to protect your family from burns is to keep all children and pets away from the open flame. They may be curious about the crackling noises and the colors, but they are also more likely to jump or overreact and get burned from their curiosity. Supervision around any type of heated element is incredibly important.
Containment – When you work with our patio construction crew for your Fairfax backyard fireplace or fire pit installation, you can choose from a variety of stone and brick options to help best contain the flammable materials. You want a space that is easily to manage and will not be prone to spark explosions injuring you, your loved ones or your property. Always supervise the flames to monitor when the fire is dwindling or becoming too explosive. A handy tip is to keep a bucket full of water or dirt nearby to use when you need to quickly extinguish the flames.
Maintenance – When you are not using the fire pit or fireplace, it is wise to use covers and close the flue to help keep out debris and small animals. Debris can ignite upon next use and cause an unsafe combustion. There are many screens and decorative covers easily accessible at your local hardware store, local steel yard, or fabrication shop.
Before each use of your outdoor heating element, clear out any obvious debris by hand and use a chimney sweep to remove any cobwebs or smaller particles that you may not have been able to see.
If you notice that your mortar around the fireplace is starting to crumble or crack, call a licensed patio contractor to come out and evaluate the space. You may need to just reseal the mortar, but the more expensive alternative is to tear down and rebuild your patio heating space.
Northern Virginia residents love extending their outdoor living season well into the fall and winter months. Practice fire safety this holiday season and get the most out of your outdoor space for years to come!
Distinctive Deck Designs has been building custom outdoor fireplaces and fire pits for the Northern Virginia market including Fairfax, Annandale, Woodbridge, and other nearby communities for 25 years. We take joy in making your outdoor living spaces usable all throughout the year. Check out more outdoor living tips on our Facebook or Twitter!