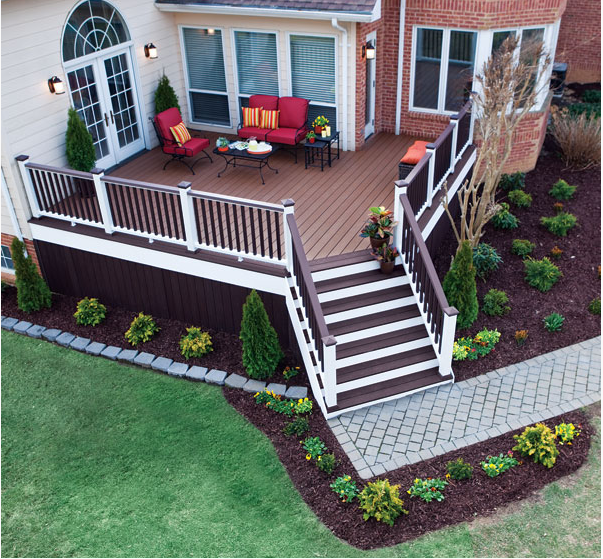 Summertime is a great time to enjoy your custom deck and patio from Distinctive Deck Designs. May is also National Deck Safety Month! At Distinctive Deck Designs, we are proud to serve Northern Virginia and always adhere to the most stringent safety requirements. We believe that you deserve to feel confident in the standards we use to construct your deck. We also encourage homeowners to continually check their decks for safety. Factors such as heavy use or inclement weather can cause invisible changes in your deck that might speed up your regular maintenance schedule or demand immediate action to keep your loved ones safe.
The North American Deck and Railing Association and other governing bodies set certain recommended guidelines and recommendations for our industry. We have complied some important checkpoints below so you can be sure your deck is safe.
Wood
Check the surface of the deck, especially the joists under the deck and the support posts for sturdiness. If you can easily pierce the wood down about ½ an inch, then the wood may not be stable enough. Luckily, this is not a problem with our Trex composite wood decking that is more durable than natural wood. Check out our page here to find out more about all of your composite decking options. If you do have a conventional wood deck, check for small holes periodically. These can be a sign of termites, which need to be treated quickly.
Fasteners, Decks, Stairs, Railings and Banisters
Tighten any loose screws or nails in your deck boards. Rusted fasteners will also need to be replaced. All handrails and railings should be firmly in place and without any movement when tested. Stairs should not sag or sway. Be sure to keep the stairways clear of décor or items that can block your exit.
Grills, Outdoor Furniture and Storage
Make sure all grills are far from flammable surfaces and that any propane tanks are properly fastened. Outdoor furniture should be specially designed for outdoor use. Check the stability of your furniture and place items away from the edge of your deck. It is also helpful to have childproof locks on storage containers.
Lighting
All lighting needs to be in working order and cleaned regularly. It is also a good idea to trim back any trees or plantings that block any light fixtures.  At Distinctive Deck Designs, we take pride in our work. You can rest assured that every outlet we install is up to code and all our lighting features are safe for you and your family. We offer LED low voltage lighting for patios and paths so you can safely lead guests to your outdoor living areas. Consider lights for your railings or to highlight changes in elevation on your deck, too. Lights are a great safety feature that can help guide everyone, even in the dark!
We hope that these tips help you to keep your deck safe! Contact us today for your free custom design consultation.