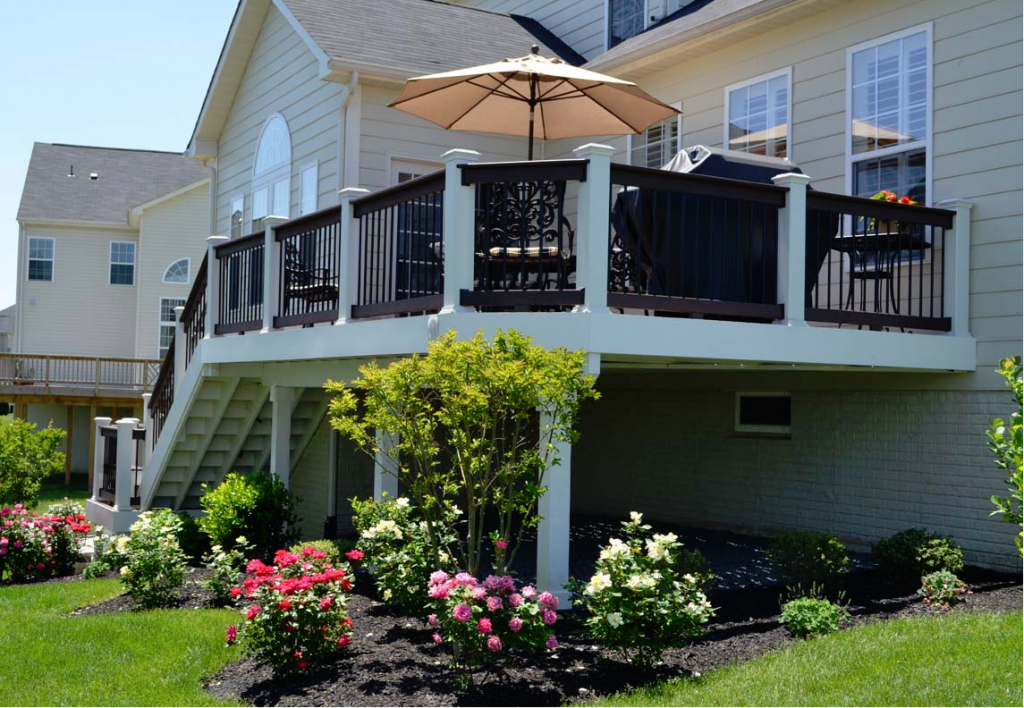 Are your patio and deck designed and ready for those warm Virginia summer nights? Now is the perfect time to get your outdoor living space in tip top shape with a custom deck design. Follow this "how to" guide from our team to help create the ultimate backyard for entertaining.
Space to Gather
Backyards are designed for family and friends to enjoy. There needs to be a natural flow with certain areas dedicated to certain activities. For example, if you plan to have meals outdoors it is helpful to have a specific deck or patio area with a sturdy outdoor dining set. It is important to think about how close the eating area is to your kitchen, barbeque and restrooms. If you want to encourage conversation, then cozy gathering areas are the way to go. We recommend having a number of different defined seating areas with a variety of seating options, especially some fun seating around your firepit. Light and warmth create a natural gathering space your guests will love.
Provide A Fun Activity
Complement your delicious outdoor meal with games everyone can enjoy! We are big fans of giant Jenga and oversized Connect 4. These activities are relatively compact so they can fit in almost any backyard. If you have some available green space, cornhole, croquet and Bocce ball are excellent options. Click here to read an article that will teach you everything you need to know to play Bocce!
Fresh Herbs
Parsley, sage and thyme will not only spruce up your meals but will also make your patio inviting with pleasant fragrances. An herb box outside will update the look of the space. Home-grown, fresh ingredients can help your meals be lighter and healthier during the warm weather as well. Take a look here for some simple and delicious summer recipe ideas!
Lighting
Lighting can set the mood for a great summer night spent celebrating and making memories. Custom patio lights will allow you to enjoy time outdoors late into the evenings. Flickering battery powered candles bring warmth and ambience to your table and are low maintenance. Edison lights strung across the deck or patio can give your space a stylish bistro aesthetic. Illuminate your outdoor paths to safely guide guests to seating areas. Highlight certain architectural features and plantings. Take a look at our outdoor lighting page to learn more about our wide variety of services.
We hope that our "how to" guide for getting your backyard ready for entertaining helps you enjoy the season! Contact us today to get a free design consultation for a custom deck and patio!